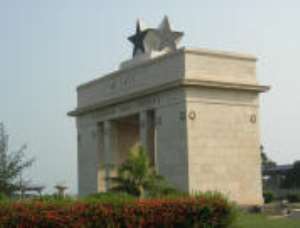 Expectedly, the $20 million spent on yesterday's celebration of the Ghana's Golden Jubilee has generated a debate within the country. Is the moment worth such a huge celebration as was televised live by the Nigerian Television Authority (NTA)? Can this third- world nation afford such a bill for an independence anniversary party?
Naturally, there are those who wish that such a huge amount in a poor country should have been spent on basic needs of the people. And, of course, there is the view that given the significance of the occasion, the national celebration is worth the while.
Well, maybe a $20 million- party is an expensive one relative to the economy. However, the significance of the occasion is not in dispute. As the first African country to gain independence south of Sahara, Ghana has cause to celebrate 50 years after, despite all the dark spots of her history so far. This moment should provoke reflections not only by Ghanaians, but other Africans should also ruminate on the promise that Ghana held 50 years ago and why the dream has not been accomplished.
So, the occasion is not just meaningful to Ghanaians alone, but other Africans and indeed black people the world over. By her achievement of sovereign status in 1957, Ghana announced loudly the possibility of liberation for other African countries under colonial bondage. By the way, it was also in Ghana that Europeans first settled in Africa to trade in gold and slaves in the 15th Century. Ghana became a source of inspiration to Africans both on the continent and in Diaspora. It gave refuge to freedom fighters and progressive political activists.
That is why the celebration of Ghana's 50 years of nationhood cannot but also be a celebration of her first President, Osagyefo Kwame Nkrumah. Long before the neo-liberal ideologues imported the recipes from America on "leadership", "visioning process" and "development strategy", Africa had produced a leader of the people in Nkrumah who had vision and was genuinely committed to the development of his nation and continent. For instance, Nkrumah had envisioned the African Union more than 40 years before it was formed. Nkrumah's pan -Africanist vision is yet to be matched by any other African leader. As Prime Minister and later President, It was a leader like Nkrumah who could have said 50 years ago that the independence of Ghana was "meaningless" unless it was "linked to the total liberation of Africa".
Nkrumah had already set Ghana on the path of development to meet people' basic needs especially in quality education and health. Little surprise that in 2000, a British Broadcasting Corporation (BBC)'s survey returned the verdict that Nkrumah was the greatest African of the 20th Century. Ghana's match for greatness under Nkrumah was tragically interrupted by a conspiracy of imperialism and local military adventurists on February 24, 1966.
Perhaps, the continental importance of Ghana's independence is encapsulated by a recent tribute by former liberation fighter and former President of Namibia, Sam Nujoma : "It was from Ghana that we got the idea that we must do more than just petition the United Nations to bring our own independence and thus on April 19 1959 we formed our own liberation movement, the Ovamboland People's Organisation (OPO) which was transformed into the South West Africa People's Organisation (SWAPO) one-year later in 1960
"At the time of Ghana's independence, I was a young man of 29 years and this historic independence celebration had a tremendous enduring impact on my life. It provided a ray of hope for the future of our liberation and from that day on I decided that come rain or sunshine, hell or high water, joy or pain, life or death, we will liberate our motherland Namibia as it was done in Ghana,"
For us in Nigeria the story of the evolution Ghanaian should be compelling for a number of reasons. Nigeria and Ghana shared a similar colonial heritage. They're many families in Nigeria that are also of Ghanaian extraction. The historical intercourse even became intensified in the days of anti-colonial struggle. Our own Nnamdi Azikiwe inspired Nkrumah himself, as a student. Azikiwe chose Gold Coast (as Ghana was then known) as the base of his publishing empire.
In 1945, before he returned to Ghana, he was the secretary of the All-African Peoples Conference convened in Manchester under the chairmanship of George Padmore. And a Nigerian, Bankole Akpata, was the assistant secretary. His younger brother, Tayo Akpata, who was also active in the West African Students Union (WASU) in those days, was full of nostalgia yesterday drawing attention to the importance of Ghana to African liberation. Akpata, now an elder statesman, reminisced as follows :" Ghana's independence was a milestone for Africa. Under Nkrumah, Ghana was a have for the hunted and Mecca for pan-Africanists".
Indeed, not a few Nigerian progressive politicians sought refuge in Ghana in the aftermath of the political crisis that plagued the First Republic. Members of the Action Group such as Anthony Enahoro, Samuel Ikoku and Ayo Adebanjo found their ways to Ghana while they were accused of treasonable felony just as their party leader Obafemi Awolowo stood trial for the same charges. Incidentally, Awolowo shared the same birthday with the Ghanaian nation. He could have been 98 yesterday. In fact, Ikoku became so influential in Ghana under Nkrumah as socialist lecturer as the Ideological Institute in Wineba.
So much has been made of the symmetry in the modern histories of Nigeria and Ghana as two important African nations. Ghana became a republic in 1960, the year Nigeria became independent. Six years later, both countries experienced their first military incursions into politics in 1966. Military regimes have handed over power in both countries. Just like General Olusegun Obassanjo did in 1979 when he handed over power to President Shehu Shagari , Flt. Lt. Jerry Rawlings surrendered power to President Hilla Liman after three months in office the same year. This was after he had lined up and shot former military heads of state. He rode on the crest of populism. And just like Obasanjo, he was to return to power on December 31, 1981. But unlike Obasanjo he was not elected then. Rawlings' second coming had an initial revolutionary undertone until the International Monetary Fund (IMF) and World Bank overwhelmed him with the bitter pills of their structural adjustment programme. Rawlings was to affect the destiny of Ghana as an unelected and later as an elected leader for 19 years until when he handed over power to President John Kufour following a demoractic transition in 2000.
Now, this is why Ghana remains a shining star even in the cloud that seems to envelope Africa. The Rawlings legacy is still a matter of debate. On the debit side, critics point to violations of human rights and arbitrary rule. But no one can deny that he restored order to a society that had been plunged into chaos by the reactionary military adventurists. Ghana has more evidence of good governance today than most African countries. Infrastructure is developed within the limits of resources. Institutions are growing. That is why Nigerians send their children schools in Ghana the face of collapsing public schools here.
Above all, Ghana has passed the basic test of liberal democratic transition. One elected President has handed over power to another. The former President is still active politically in opposition. He is neither assassinated nor put in detention.
Kufour said proudly on CNN the other day that "this is the right time to be Ghanaian". How I wish a Nigerian elected President can face the world on October 1, 2010 and say confidently that it is the right time to be Nigerian. If Nigerians applaud such a declaration, it would certainly resonate throughout Africa and beyond.