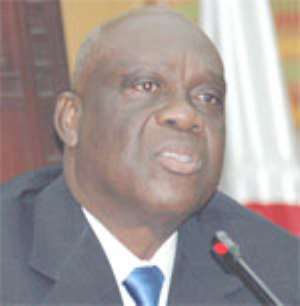 The Speaker of Parliament, Rt. Hon Ebenezer Sekyi Hughes has invited a number of Speakers and Parliamentarians to take part in the country's Golden Jubilee anniversary celebrations.
They included Francis Ole Kaparo, Speaker of the Kenyan Parliament, A. Bensalah of Algeria, Aminu Bello, Speaker of the Nigerian House of Representatives, Ibrahim Boubacar Keita of Mali and Justice Edmond K. Cowan of Sierra Leone.
The others were the Speaker of the National Assembly of Zambia, Amusaa K. Mwanamwa, Prof Iba Dor Thiam, First Deputy Speaker of the Senegalese Assembly, Antonio Ventura de Azevedo of Angola, Issaka Hassane Djegoule, Deputy Speaker of Niger National Parliament and Kansongue Yambrandjoi, First Deputy Speaker of the Togolese Parliament.
Parliamentary delegations from Swaziland, Mozambique, South Carolina and the Pan-African Parliament were also expected in the country.
As part of the anniversary celebrations, a commemorative Golden Jubilee sitting of parliament took place last night.
All Members of Parliament (MPs) were expected to attend the sitting, which started at 10:30 pm.
President J.A. Kufuor and his vice, Alhaji Aliu Mahama, Ministers of State, the Chief Justice and Justices of the Supreme Court and some traditional rulers were in attendance.
The Duke of Kent and the various parliamentary delegations also graced the occasion.