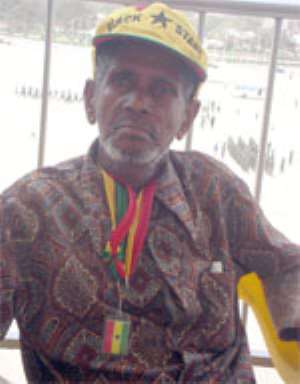 A 78-year-old man, who told Daily Guide that he dusted Dr. Kwame Nkrumah's shoes when Queen Elizabeth II paid her maiden visit to Ghana in 1960, is still engaged in the vocation of keeping his customers' footwear spick and span.
For Amadu Bukar a.k.a. "International Shoeshine Boy", who now lives at Nima, a suburb of Accra, his contribution to the on-going Golden Jubilee celebration of Ghana's independence is his narration of how the country's first president had put his feet on his shoeshiner's box, so he could dust his black shoes.
Daily Guide met him at the Ghana @50 Secretariat last Saturday when he went there with his shoeshiner's box on which sat the metal the first president had put his feet on.
"The President was en route to his native Nzemaland to commission a school when I saw him in Takoradi where I was a shoeshine boy at the time.
I saluted him and placed my shoeshine box in front of him. He acknowledged my compliments and put his feet one at a time, on the box and I proceeded to dust them with a duster. I did not have polish at the time," he said.
After completing the task, he said, the late Krobo Edusei, one of the first president's vociferous ministers, who was in the late president's company at the time, asked him to come and see him at an office in Osu.
"I can not recognise that office today, but I do remember that on reaching the place, Mr. Krobo Edusei gave me an amount of five pounds," he said.
International Shoeshine Boy said at the time, he was also a dancer with the International Broadway Band at Takoradi.
"I polished the shoes of the bandsmen anytime they were going to travel. I was also a rock n'roll dancer," he said.
He disclosed he was a permanent houseboy to the founder of the Broadway Band, Mr. Adjepong.
Narrating his brief biography, he said he was born in Kumasi from where he relocated to Takoradi.
These were glorious days in the history of the port city which was booming with seamen who stormed the city's pubs anytime their ships docked there.
After staying there for a while, he relocated to Tema from where he finally settled down at Nima in Accra where he is currently.
"In the good old days," he recalled, "we used to charge a penny for polishing a pair of shoes but this changed to one shilling."
In the days when cinema going was a feature of the urban centres like Accra, International Shoeshine Boy was one of the shoeshiners in front of the Opera Cinema at Cowlane, Accra.
He said he was one of the many shoeshine boys who worked in front of Opera Square.
"I was introduced to shoeshining by a man called Small, now deceased, who gave me the metal foot rest on which Nkrumah put his feet on."