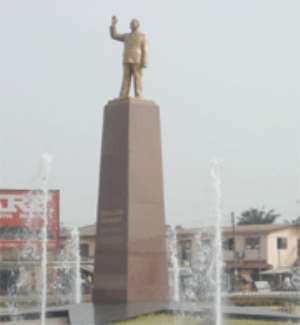 Accra has never been more beautiful, as all activities depict that residents have been gripped by the anniversary fever.
The colourful decorations, the freshly painted buildings, the neat streets and the newly rehabilitated roundabouts have all combined to give Accra, the capital of Ghana, a new look to leave a positive impression on the minds of the numerous visitors, who are in the country for the Golden Jubilee celebration.
From the central business district (CBD) to the Tetteh Quarshie Circle, near the Kotoka International Airport, decorations of all types have taken place in colours of the national flag: red, gold and green and the black star with the decorations of some institutions outdoing one another.
A few of the places that the Daily Graphic visited to assess the level of preparations for the celebrations included the beautifully decorated premises of the Accra Metropolitan Assembly, (AMA), Bank of Ghana, the Standard Chartered Bank, Ghana Telecom and offices of the Ghana Commercial.
The Obetsebi Lamptey Circle and the Danquah Circle have also been transformed beautifully, following rehabilitation works funded by Scancom Ghana Limited and Forewin Ghana Limited respectively.
At the Obetsebi Lamptey Circle, the previously brownish grass now looks green after a new landscaping, erection of the statue of Obetsebi-Lamptey and the planting of lovely flowers.
At the Danquah Circle, which has the statue of Dr J.B. Danquah, the story is virtually the same but for the addition of a traditional hut, which conceals a water reservoir which would be used to water the flowers and grass during the dry season.
A number of vehicles, especially taxis, have displayed the Ghana flag in and on their vehicles; buildings and trees are also decorated with the national flag.
A taxi driver, Mr Yaw Asare Adjei, who had embossed his vehicle with the AMA security number and was also in the newly prescribed AMA sea blue shirt and blue black trousers, said he was very happy that he was alive to see the country's 50th Independence Anniversary.
He said that it was the more reason why he embossed his car and was wearing the prescribed uniform.
"This is the only way I can show my support for the celebration, by appearing decent and abiding by the laws that govern the city," he added.
Story by Naa Lamiley Bentil