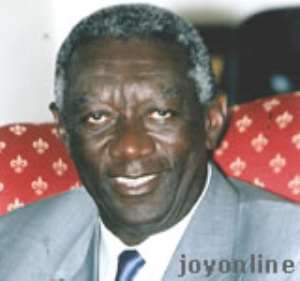 The spell of independence that gripped Ghanaians when the first President, Osagyefo Dr Kwame Nkrumah declared the country free from British colonial rule on 6 March 1957 has been re-enacted at the Old Polo Grounds in Accra.

At 12 midnight, members of the Ghana Actors Guild stood at the exact spot now transformed into Kwame Nkrumah Mausoleum to dramatise the declaration of independence by leaders of the Convention Peoples Party, shaking the national monument overlooking the old Parliament House with shouts of joy.
Ace actor David Dontoh, who played the role of Dr. Nkrumah broke the silence of the night with a baritone voice that sounded like that of the First President to declare the famous and historic words: "Ghana your beloved country is free forever."
"Our Independence is meaningless until it is linked up to the total liberation of the African Continent," Dontoh declared and thus bringing Dr Nkrumah back to memory.
The large gathering that comprised President John Agyekum Kufuor, Vice President Alhaji Aliu Mahama, President Olusengu Obasanjo of Nigeria, members of the diplomatic corps and tourists were later treated to highlife songs and fireworks that brightened up the skies.
The drama was preceded by various cultural performances by members of the Guild that depicted unity in diversity of the five regions of Ghana, Northern Territories, Trans-Volta Togoland, the Colony, Ashanti and Brong-Ahafo that existed at the time of the declaration of independence.
A dancing group from Malawi also added colour to the night by performing a show that portrayed the country's colonial struggle.