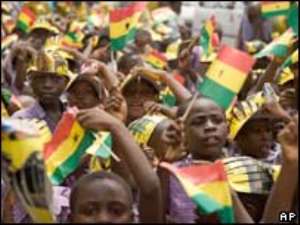 People across Ghana are celebrating the 50th anniversary of its independence from Britain.
Ghana was the first sub-Saharan country to break with its colonial power, prompting many others to seek independence in the following years.
More than 20 heads of state are attending the events alongside popular figures including the footballer, Pele.
Thousands of people are out on the streets to watch fireworks and to enjoy festivities across the country.
The Ghanaian authorities have spent $20m (£10.4m; 15.2m euros) on the commemorations which are due to continue for the next 12 months.
Thousands gathered in Independence Square in the capital, Accra, for a re-enactment of the declaration and fireworks were planned to mark the precise anniversary.
"I am a Ghanaian and I came tonight because I wanted to witness the joy," 17-year-old Joshua Ameh told Reuters news agency. Pride On 5 March 1957, Britain formally transferred power to independence leader Kwame Nkrumah.

The Duke of Kent is the British representative at events to remember the occasion, which triggered a chain reaction as other African nations moved towards independence.
African leaders, including South Africa's Thabo Mbeki, Robert Mugabe of Zimbabwe and Olusegun Obasanjo from Nigeria, are attending the ceremonies.
Singer Stevie Wonder is expected to perform a version of his track Happy Birthday dedicated to Ghana.
In the capital and beyond, the country's Black Star flag is fluttering from electricity poles, car windows and palm trees.
On the streets of city, many are celebrating. "When you look at how our friends have suffered, by God's grace we are here, we have reason to be proud," Nora Kattah told Reuters. Dissent The BBC's Will Ross in Accra says many of the years following independence were like a roller coaster with coups and economic meltdown but recent stability has offered hope.

Numerous African heads of state will be attending the celebrations
The country is often cited as an example of stability, steady growth, and low inflation, with increases in its output of major exports including cocoa and gold.
But others questioned the wisdom of holding lavish celebrations while many in the country remain without basic services.
President Jerry Rawlings, who ruled for almost two decades, has criticised the events and is boycotting them.
In a statement, he said he would not share a stage with "the same people who have taken every opportunity to denigrate us".
"Politically our leaders have failed us," Accra resident Emmanuel Danso said.
"Only politicians or people who know people live well in this country," he added.