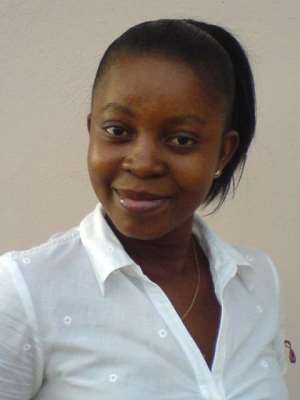 On the sidelines of the 50th Independence Anniversary Celebration climaxing between today & Friday is the worldwide commemoration of the International Women's Day on Thursday March 8, 2007.
Designated in some countries as a national holiday, the Day is an occasion to look back on the past struggles and accomplishments, and more importantly, looking ahead to the untapped potential and opportunities that await future generations of women.
International Women's Day is the story of ordinary women as makers of history; it is rooted in the centuries-old struggle of women to participate in society on an equal footing with men.
The theme for this year's celebration is "Ending Impunity for Violence against Women & Girls"
To celebrate this year's occasion, the dailyEXPRESS will bring readers interviews and write-ups on & about some influential Ghanaian women whose stories we believe will mentor other young people. We start with Mrs. Boahemaa Ntim, Marketing Manager of Cal Bank Limited.
Mrs. Ntim, who will be thirty-five (35) years this year, attended St Roses Secondary School in Akwatia in the Eastern region of Ghana before proceeding to the University of Ghana. She graduated with a BSc Administration (Finance option), and went further to study for an MBA Finance from the same university.
"I was born, bred and educated in Ghana. While at St. Roses I did the basic Arts courses in Economics, geography, literature, religious study…" she says proudly.
What influenced her choice of courses in the university?
She passed well from secondary school and usually at that age, she wasn't any different from young people who are not certain as to what they want to pursue; you get a course according to your grades and since she had excellent grades, she was enrolled for a BSc Administration degree.
"I didn't particularly have a flair for figures but I took to finance, I like finance and so I did it."
Marriage
"My maiden name is Denkyi because I'm Kwahu and my husband is Ntim, Kojo Otchere Ntim. I have two girls, the first is seven and second is five – Ama Serwaa Ntim and Otcherewa Ntim."
How did she end up with a marketing career having studied Finance
After school, Boahemaa did her national service with Masai Computers selling an accounting software package. After that, she saw an advert in the newspapers about a job opening for management trainees at Standard Chartered Bank and bingo! she applied.
"That's why I always tell people that it is not the connections that links you to what you want to do and when you want to go, go forward. I went through the process of interviews, exams etc. I was selected. I was there for close to three years and moved to Citi Savings and Loans… "
Mrs. Boahema Ntim has a strong personality and loves new challenges, she says. After building a successful marketing team in Standard Chartered - Tudu branch, she left for Citi Savings and Loans now Intercontinental bank, which was a much smaller company. One would normally expect the usual career climb from a big company to a bigger company.
"For me it wasn't the money, Standard Chartered was paying me more." The challenge and the drive to combine working with pursuing her MBA helped her in that brave decision to leave Standard Chartered Bank. Around the time she started her MBA in Finance and Administration, she had her first child.
The Multi-tasked Mrs. Ntim
Mrs. Ntim confirms the view that the woman is a multi tasked personality and a role that science has revealed is a difficult one for men. "The time we were going to do the exams, I was like eight months pregnant…"
"Wow! but you did it?" was my reaction because I was clearly amazed.
"Yes I did it…my baby was just four weeks old and I had to go back to work. I was taking care of my baby, going to school and working at the same time. It was tough but I am a woman. Women have a lot of things that men don't have unfortunately. That is just the way it is. Women are multi-tasked; they can do so many things at the same time. For me, I think God has also been very good to me. I would be in the lecture room, my mother will have the baby in car, every so often I will come and breastfeed in the car and go back…"
Moving on
After her masters' degree, she worked a while until the company (Citi Savings & Loans) was ready for a take over by a Nigerian company so she decided to progress her career.
"Again, I didn't know any one in Cal bank; I just drove in one day… walked to the deputy MD at the time and told him that I'm looking for a job. He asked me if I knew him and I said no and that I just walked in…"
He asked for her CV and she was called a few days later for an interview and "incidentally, it was just at the time that Cal bank wanted to build a marketing department; they didn't have one. For them it was an opportune time and that's why I think God has been very good to me."
She was called to work with three other people and four months later, she was appointed to act as Head of Marketing and she took on the role and executed her functions successfully. After acting in that position for a year, her appointment was confirmed.
At 35, and the head of marketing for Cal Bank, Mrs. Boahema Ntim can be applauded and will surely be a source of inspiration to many young women.
Women's Challenges
"I am not one to go for equality issues… I think women are naturally capable of anything they want to do. We don't need favors to get us to do something. I have the same background that a lot of women have had, very challenging backgrounds. Like I told you, my mother used to do everything, sell gari, everything, even though she was teaching, I went to school like everybody else… came home to cook even though my brother will be playing football…"
When she was in school, there was a gentleman in her class who used to complain bitterly that he didn't have a room on campus. He lived in Dzorwulu and despite the fact that he had a car, he complained bitterly about the distance he had to travel.
"Here he was, he was on study leave, don't have to go to work, no baby to take care of, no need to cook. The only thing he had to do is sit in his car in the morning and drive to school and he was complaining because he didn't have a room on campus. So I think women are very good at multi-tasking, women can do anything they want to do."
"You need to let the men understand that you can do the job and women should not wait for the women's group to come speak for them. In Cal bank, I don't have an issue with men, I have subordinates who are men and who I relate with very well and there are no issues with regard to the fact that I am a woman. The way you carry yourself and lead people…if you decide to boss everyone around and let them feel you are the boss then obviously you get the same feedback. But if you treat them well and do your job well then they respect you and they know you can do your job well. For me I don't' join women's group, I don't join church women's group, I join a group because it is a group I want to join…I know lots of women who have not been formally educated but they have made lots of money. I think it a matter of attitude on behalf of the women."
Equality issues
In her opinion, women should have the right attitude and take every opportunity that comes their way. "I have a Chinese friend who was baffled at the fact that the Tema Fishing business is dominated by women…and he wondered why; in this situation, are the men also to say that they have been marginalized economically or what?."
She agreed that women should be allowed the opportunity to do things in places where equal opportunity do not exist. The most important thing is the ability to deliver. If you prove your worth then you should be allowed to do the job but if you cannot deliver then you don't have the right to do the job and that has nothing to do with being a woman or a man.
Domestic Violence Bill?
This bill is very good but unfortunately; it's been just horned in to talk about 'marital rape'. It is not about marital rape; it is about putting women in control of their lives. Whether you are married or not… if I don't want to have sex, I don't want to have sex.
"There is a whole misunderstanding…we're talking about a situation where women have had babies and are not in the position to give sex and you insist that because you're a man, you insist on your position because you are man; no way!"
In a reversal role, there are also men who are abused by their wives so we should move away from just the issue of marital rape and look at the wider issue of domestic violence. She recounted a friend who felt that her boyfriend was cheating on her or stopped loving her because he had stopped beating her up. These are some of the things we need to help people overcome.
If we decide to fight for equality, then women have to contribute financially to keep the home running because there will always be a problem if men have to put food on the table and at the same time, women will demand an equal say. Women need to compliment the roles of the men. She emphasized that, we cannot expect two leaders to have equal authority in a group and this includes the family and as such, there is the need for one head while the other compliments the head. That is why a man is the head of the home and the woman, his helper.
Any mentors
In the reverse form, she has people she mentors, both young men and women and she tells them that every thing has to do with the attitude and the mind. If your mind decides it is incapable, then that's the result you get and as such you don't expect women's groups to fight for you. Mrs. Ntim said that she didn't have access to mentors early in life and the only time that she tried approaching some prominent women in church when she was young, she didn't get the encouragement and feedback from them so she gave up. As such, she makes the effort to be available for young people. However, there are people she looks up and talk to.
Her place of work, Cal Bank has a mentoring program to guide young employees.
Interview & script by Esenam DUMENU