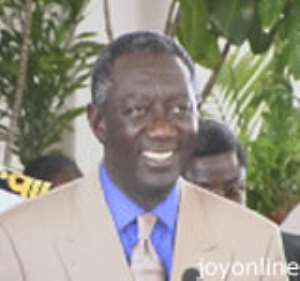 President Kufuor has granted amnesty to one thousand two hundred and six prisoners on humanitarian grounds as part of the jubilee celebrations.
The action is the prerogative of the president under article 72 of the constitution and on the recommendation of the prisons service council and the council of state.
Interior Minister Albert Kan Dapaah gave a breakdown of the four categories of prisoners who are to be released outright.
"One thousand, one hundred and fifty first offenders who have served half or more of their sentences, 11 prisoners who are seriously ill and incapacitated and will not pose any threat to society, there will also be 3 aged prisoners who are over 70 years of age and weak and will not constitute any threat to society, there are 2 nursing mothers who have had a character change".
In addition, thirty-six prisoners on death row have had their sentences commuted to life in prison while three others have had their life sentences changed to a definite term of 20 years in prison.