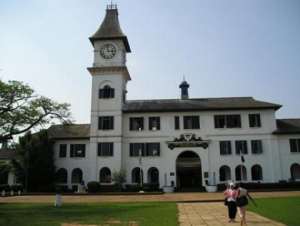 President John Agyekum Kufuor on Saturday called on students to endeavour to make the best out of the training they were receiving in school in order to meet the many challenges in the world after their studies.
This, he said, could better be achieved if societies worked hand-in-hand with the government to remove all cultural barriers that impeded the smooth education of children and the youth.
The President was speaking at the 80th anniversary celebration of the founding of Achimota Secondary School on Saturday which was climaxed by the handing over of a 130 million cedis borehole to the school by the 57 year group and a promise of a bus by the President to be received in two weeks time.
A colourful procession of students from the various ethnic groups with cultural displays graced the occasion which was under the theme; "80 years of Total Human Development; The Way Forward"
President Kufuor said, to meet the challenges of giving the best education to the youth; the government had upgraded at least one secondary school in each district to acceptable standards to produce students who could help meet the ever changing national needs. He said high quality teachers were being trained who would in turn train the children to become responsible citizens.
The President advised the students to exhibit determination to ensure that Africa claimed the twenty-first century as her century and move forward in all endeavours.
Mr. Kwame Pianim, Chairman of the Board of the Public Utilities Regulatory Commission and President of the 57 year group said fulfilling the vision of the Golden Age of Business demanded that products of the school stimulated the acquisition of nation building skills for accelerated development
He said the school had done this by producing professionals in a wide variety of disciplines, Diplomats and Ghana's former President Flight Lieutenant Jerry John Rawlings who have contributed their quota to nation building.
Mr. Pianim urged all and sundry to use the 80th anniversary of the school and the 50th anniversary celebration of Ghana to work hard to push the national development agenda forward.
He invoked the spirits of the founding fathers including Gordon Guggisburg, Allen Fraser and Kwegyir Aggrey to bless the school and the nation at large.
Mrs Flora Ivy Mensah, Acting Headmistress of the school urged the students to abide by the ideals of the founding fathers that included discipline and hard work.
Mrs Theresah Kufuor and the Headmistress cut the anniversary cake to signify the climax of the anniversary.