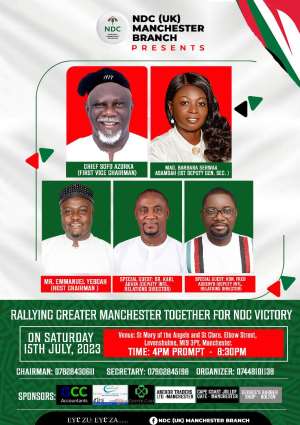 The revamped NDC-Manchester branch held a well-attended and colourful extraordinary event on Saturday 15th July 2023 as part of the branch's efforts in rallying Ghanaians to vote massively for President John Mahama and NDC's parliamentary candidates in the 2024 presidential and parliamentary elections, respectively.
In a speech read by the NDC-UK & Ireland Chairman Alhaji Alhassan Mbalba on behalf of a Special Guest Speaker, Chief Sofo Azorka Awudu who could not attend the event in person due to an equally important national assignment in Ghana, he admonished all present to respect and promote the cardinal principles and values of the NDC which includes respecting the NDC's diversity.
He stated that the NDC's founding members were drawn from the three main political traditions in Ghana: The Nkrumah tradition; Danquah- Busia tradition; and the Rawlings tradition. As a result, NDC is the most heterogeneous and strongest political party in Ghana. The NDC he noted embraces and welcomes every Ghanaian eligible to join without any form of discrimination based on religion, ethnic group and social status.
He urged the members of the Manchester Branch and the entire membership of NDC-UK & Ireland Chapter to reach out to the Ghanaian Community and especially the Ghanaian Mosques and Churches and patronise Ghanaian social events in the UK & Ireland. This, he believes, will find true expression in the Chapter's crusade in rallying Ghanaians in the UK for NDC's victory 2024.
The Lord Mayor of Greater Manchester Yasmine Dar graced the occasion as the Special Guest of Honour and she acknowledged the contribution of the vibrant Ghanaian Community to the socio-economic and political development of the Greater Manchester area. She also encouraged members of NDC to see her election of Mayoress of the second largest city in the UK as a great inspiration.
The Chairman of NDC- Manchester Branch Mr Emmanuel Yeboah in his welcome address took the Conference through the history of the NDC Manchester branch and touted the branch's resilience since its formation.
The immediate past Chairman of UK & Ireland Chapter, Mr Kofi Kwakye also admonished members of NDC to maintain and promote unity among the ranks in their quest to capture power in 2024.
The Chapter Secretary Mr Michael Kudiabor who is seeking re-election introduced the Executives of NDC- Manchester branch and urged them to continue with relentless efforts in building a strong and vibrant branch.
The occasion was also graced by Nananom from Ghanaian communities in their traditional regalia added some touch to the event and made it more colourful.
Find the list of NDC- Manchester Branch Executives:
Mr Emmanuel Yeboah Chairman
Mr Francis Aweso- Secretary
Mr David Kofi Dadzie-Treasurer
Mr Gabriel Kofi Dwomoh-communication Officer
Mr Christopher Acquaye -Organiser
Ms Adelaide Manu Women's Organiser
Mr Christian Aboagye Youth Organiser
Mr Ahmed Asiedu Executive member
Mr Abdul Gibren Executive member
Mr Crosby Tagoe Welfare Officer