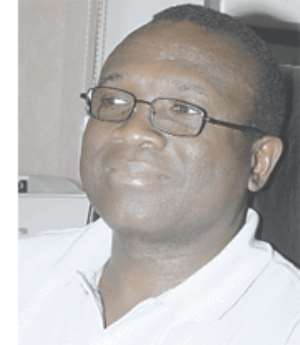 A leading political scientist, Professor Joseph R.A. Ayee, yesterday took a critical look at 50 years of Ghanaian freedom and concluded that the conduct of national affairs has split the country along political lines.
Prof Ayee, who is the Dean of the Faculty of Social Studies of the University of Ghana, Legon, lamented that politics had divided Ghanaians, instead of uniting them, and warned that Ghanaian values of community service, trust, reciprocity and security were under serious threat from adversary politics.
"We have, since independence, practised adversary politics characterised by an antagonistic relationship between the major parties which turn political life into an electoral battle," he said.
Prof Ayee was delivering a lecture on "Ghana at 50: Government, Politics and Development" at the opening of a two-day colloquium organised by the Department of Political Science of the university to commemorate Ghana's Golden Jubilee and take stock of national life in various fields since independence.
According to him, adversary politics had created barriers to building social capital for the nurturing of democratic growth in Ghana.
For instance, he said, parliamentary debate had become a "continuous polemic" before what was seen as the bar of public opinion.
Again, the rancour generated over the creation of new districts and the siting of their capitals and the selection of candidates by political parties were indicative of social mistrust in the country.
Prof Ayee observed that interpersonal relationships were characterised by low levels of trust because of the high degree of partisan fragmentation and the extent to which political antagonism was carried into individuals' personal lives.
That, he said, brought about suspicion among supporters and party officials if a member of their party was reasonably disposed to the views of another political party.
"This, in turn, affects the political sphere, making people less willing to co-operate politically with their fellow citizens," he added.
Prof Ayee said although the proliferation of various ethnic and political-based organisations at workplaces and in educational institutions were, in principle, good in promoting social capital, it had tended to raise the ethnic temperature rather high.
"Indeed, the flame of ethnicity is lit in these ethnic or partisan organisations, especially with regard to access to public facilities and appointments. Their activities have consequently built mistrust and lack of reciprocity because vertical linkages rather than horizontal ones have been established," he said.
However, Prof Ayee said "politics in Ghana is not totally negative", since the country had gone past the period of instability.
For instance, he said, Ghanaians had been able to change political rulers through the electoral process in a manner generally perceived to be free and fair.
"There is a growing sense of relief, confidence and pride among Ghanaians that they have, at last, achieved political stability," he stressed.
Prof Ayee said political space had been created for civil society organisations and other groups, while some institutions and processes, such as the annual Governance Forum, the People's Assembly and stakeholder consultations generated some participation in the policy arena.
Prof Ayee said from Kwame Nkrumah's Seven-Year Development Plan through Acheampong's "Yentua" cliché', the Economic Recovery and Structural Adjustment programmes (ERP and SAP), the Directive Principles of State Policy, Vision 2020, the Millennium Development Goals (MDGs), the HIPC initiative to the current Growth and Poverty Reduction Strategy (GPRS), there was enough evidence that development issues remained at the heart of policy making.
He noted that although Ghana had made progress in areas of social services, including education and health, its Human Development Index record was not encouraging.
Touching on corruption, Prof Ayee said the general perception was that political leaders did not have the vision, personal resolution and political will to implement policies and programmes, irrespective of their political consequences.
He said as a result of their transactional leadership, opportunities had been created for corruption and other rent-seeking activities.
Prof Ayee said notwithstanding the difficulties Ghana had gone through in the last 50 years, "there is a glimmer of hope for the future if we, as a country, are able to adopt the right and positive attitudes to solve the problems which confront us".
In that regard, he said, Ghanaians should discard their political and ethnic differences and unite towards promoting the much needed socio-economic development of the country.
The Head of the Department of Political Science, Prof Kwame Boafo-Arthur, said the celebration of the Golden Jubilee was significant in many respects, although Ghana had had its fair share of political instability as a result of the frequent intrusion of the military into the country's political scene.
"If today, at 50, Ghana is perceived internationally and in comparative terms as an 'island of peace' in the sub-region, against the backdrop of our turbulent past, we have cause to celebrate," he stressed.
The Minister of Communications, Prof Mike Oquaye, who chaired the function, said the 50th anniversary celebration of Ghana's Independence was a cornerstone in the country's history.
He urged Ghanaians to reject the return of military adventurers.
Story by Musah Yahaya Jafaru