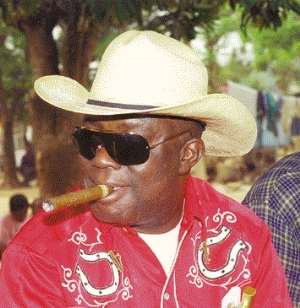 A presiding judge of the Fast Track High Court, Justice Mrs. Iris May-Brown refused to recognise a legal practitioner of the Azinyo Chambers who went to court as counsel for Kofi Wayo in a libel suit because he was improperly attired.
Mr Jah Josiah who was representing Wayo in his libel suit against Daily Guide was improperly attired for court and therefore ordered by the judge not to speak at all.
Kofi Wayo had bounced back by filing a motion to re-list an ex-parte application for interlocutory injunction against the newspaper which was struck out by the court on January 22, 2007.
However, due to the order against counsel, the Judge listened to only arguments of Godfred Yeboah Dame, counsel for Daily Guide and there after ordered the applicant to file an affidavit in opposition within 24 hours.
She awarded costs of 1.5 million cedis also against Mr Wayo.
According to the Daily Guide newspaper in a publication of Friday March 2, Mr Dame in his argument in opposition to why the court should not re-list the application for injunction said the application was misconceived without any legal basis and was fraught also with abuses of the court processes.
He explained that since the application had been set aside, there was some basis for counsel bringing the same matter to court, therefore the court should dismiss it with costs 10 million cedis but the Judge leniently awarded only 1.5 million cedis.
In the application, Kofi Wayo indicated that he had a genuine case against Mrs Gina Blay, Managing Editor, Alhaji Abdul Rahman Gomda, News Editor, Western Publications Limited who are publishers of Daily Guide and Alhassan Saeed, acting General Secretary of the United Renaissance Party.
He alleged that all the people were bent on destroying his hard won reputation so the court should re-list his motion since the end of justice would be better served if that was conveniently done and the case heard on its merits.
Source: Daily Guide