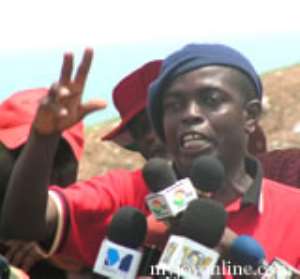 An Accra Fast Track High court on Thursday ruled in favour of the Greater Accra Regional Police Command to stop the Committee for Joint Action (CJA) from undertaking its intended procession on the 6th of March.
The court presided over by Justice Baffuor Bonney granted the police a prohibition order to halt the planned procession of the CJA on the 6th of March and ruled that no group of persons can organise any form of procession whatsoever between the 5 - 15th of March.
The Lawyer for the CJA Mahama Ayariga however says the group will appeal the case.
"We are very confident that the court will set aside the ruling" Mr Ayariga said and added that the court gave the ruling because it did not hear the CJA's side of the case.
The CJA had announced that the intended procession was for what it called the down trodden who it claimed had been left out of the country's Golden Jubilee celebration.
But the regional police commander DCOP Douglas Akrofi Aseidu went to court this morning on an ex-partie motion to seek to restrain the procession.
The Police said they had received several notices from other organisations including the Conventions People Party (CPP) seeking to organise similar procession on the 6th of March.
Mr K. B. Amoah representing the Police at the court therefore expanded the writ to include any other group of persons who may have similar intension thus making it illegal to go on a procession during the stipulated period.
Justice Bonney said his ruling was in view of the fact that the Independence Day was an important event which was of national interest.
He said the Day was of public interest and events earmarked for the its celebration was for national unity.