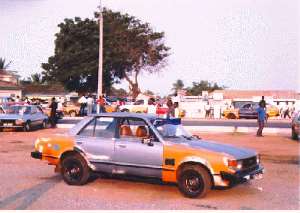 The Driver and Vehicle Licensing Authority (DVLA) will soon contract well resourced garages to inspect and certify vehicles before issuing road worthy certificates.
Magnus Opare-Asamoah, Deputy Minister for Transportation said that in this way most of the vehicles will be inspected and certified to reduce road traffic accidents.

Mr Opare-Asamoah was inaugurating a 24-hour ultra modern automobile service centre, "QuickFit Services Centre" off Graphic Road in Accra.
The centre, the biggest in West Africa is expected to offer jobs to 150 people. It offers services on German and Japanese vehicles, as well as vulcanising, alignment, air condition repairs, cleaning of vehicles, homes and offices.

Mr Opare-Asamoah observed that most of the road accidents in the country had been attributed to poor handling of tyres, poor servicing and poor positioning of head lights of some vehicles.

He therefore, stressed the need to establish an efficient management of motor vehicle service centres with the state of art machines in the country.

Mr Opare-Asamoah noted that even though some individuals had surveyed the motor vehicle maintenance and service landscape, they had not been able to sustain such service centres due to the continued importation of technologically advanced motor vehicles in the country.

"This has attributed to the current high cost of servicing and maintenance of vehicles and did not encourage motor firms to patronise their service. The result is the poor patronage of their services and the short life span of new vehicles," he added.
Kingsley Agyeman, Chairman of the Board of Directors of QuickFit Service Centre, said two more centres will be established off the Spintex and Tema roads by the end of the year.
Source: GNA