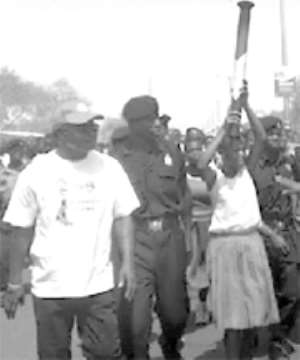 Tuesday, February 20, 2007 will forever remain the most memorable day in the life of Susanna Mon; Out of the blue, Ms Mon, a student of Bolgatanga Girls' Secondary School, was called from the jubilant crowd to bear the Freedom Flame.
She carried the flame over a distance of about 100 meters before handing it over to a female teacher.
An elated Ms Mon told the Junior Graphic that she was proud to have played a part in the country's Golden Jubilee celebration.
As early as 8:00 am, scores of children from both basic and second cycle institutions in the Bolgatanga Municipality had lined up along the Bolgatanga-Navrongo main road to witness the arrival of the flame from the Upper West Regional capital, Wa.
The Freedom Flame was lit in Wa on Monday, February 19, 2007, as part of activities heralding the 50th anniversary of Ghana's independence.
At exactly 11:15 am, a representative of Hughes Hospitality Services, co-ordinators of the Freedom Flame event, Mr Anastasia Anderson, on behalf of the Ghana @50 Secretariat, symbolically handed over the torch to the Upper East Regional Minister, Mr Boniface Gambila.
Mr Gambila, with the torch, began the relay and passed it on to his deputy, Alhaji Awudu Yiremiah, who also continued the procession.
From the deputy regional minister, the torch went to the Regional Security Co-ordinator, then to the Bolgatanga Municipal Chief Executive, Mr Isaac Nsoh Amoah, before it got to Ms Mon.
Story by Benjamin Glover