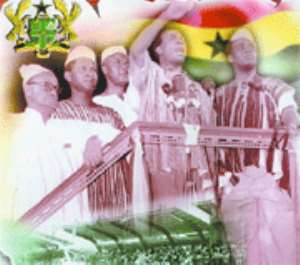 Mass Excitement On Day Of Independence
Thousands of rejoicing men, women and children gathered around Parliament House in Accra early March 6, 1957 to witness the birth of the independent state of Ghana.
From the Parliament House, a radius of about 100 yards embracing the Electricity Department, the Bank of British West Africa, the Government Printing Department and many streets, was also thronged with jubilant crowds.
They sang, danced and shouted joyfully, "Freedom, freedom..freedom," they said.
Amid this mass excitement, joy and enthusiasm three ceremonies were performed to mark the birth of the new nation.
First at 11 o'clock, the Prime Minister, Dr Kwame Nkrumah, made a one-hour statement outlining his government's policy concerning internal and external affairs of Ghana.
Then at midnight prompt, the Union Jack on the Parliament building was lowered and up went the red, gold and green flag of Ghana in its place.
This over, Dr Nkrumah was carried shoulder high and rushed to the polo ground where he declared to the august gathering: "Ghana our beloved country is free for ever".
• The Union Jack is the flag of the United Kingdom.