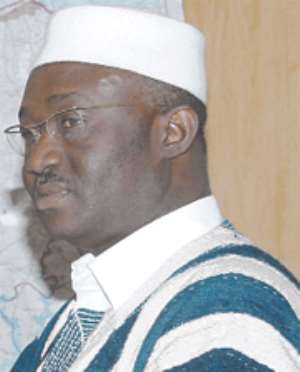 Ghana's dwindling energy resources will receive a lifeline with the arrival today of the first consignment of three power generating sets from donor sources.
The package is an 80-megawatt emergency electric power supply arrangement by the government to end the load shedding exercise during the celebration of the country's Golden Jubilee.
The nation-wide load shedding exercise began six months ago as a result of the low water level in the Akosombo Dam, the country's main hydro-electric power generator, necessitating frantic efforts by the government to institute medium and long-term measures to improve the situation.
In President J. A. Kufuor's State of the Nation Address to Parliament recently, he outlined all the measures which had been taken to salvage the situation.
They included power supply from the West Africa Power Pool, a 200-megawatt supply from Nigeria and Cote d'Ivoire and a Volta River Authority (VRA) 300-megawatt plant in Tema.
Other measures were the empowering of the Osagyefo Power Barge to produce 120 megawatts of energy this year, a 600-megawatt supply through a Ghanaian/Chinese joint venture and the generation of 110 megawatts by three American companies by April this year.
The arrival of the generating sets today will augment the country's energy needs considerably if other measures indicated, such as arrangements with Nigeria to supply power to Togo and Benin, thereby reducing the country's burden, go through, experts project.
Site preparation for the installation of the sets was near completion when the Minister of Energy, Kofi Adda, visited the place last Monday to inspect progress of work.
The Managing Director of Kampsad Company which has been contracted to undertake the site preparation, Eddie Armah, said the work would be completed on schedule.
The sets will be installed on a 10,000 square metre plot of land which was formerly owned by PSC Drydock.
Nearby, workers of the Electricity Company of Ghana (ECG) were working to install switches, cables and equipment for the distribution of electricity with the installation of generators.
They indicated that they would be working throughout the night to complete the work on schedule.
Adda, who was satisfied with work done, congratulated the workers on their contribution to the nation's efforts at development and towards the Golden Jubilee celebrations.
He later told the Daily Graphic that the government was on course with its plans at resolving the energy problems in the country.
Story by Caroline Boateng