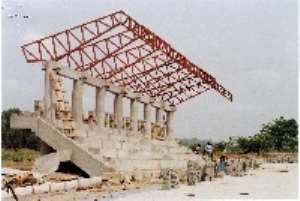 The artisans busily working on the Regional Golden Jubilee Park at Ho.
The ¢4.5 billion park comprises a dais, media and spectators stands, a refreshment centre, and a supermarket.
Mr. Daniel Ohene, officer in-charge of the project, was emphatic that the project would be completed before the Independence Anniversary Day, March 6.
He explained that the major works had been completed, and 'what is left is painting, roofing, and minor fittings.'
Picture: Lizzy Okai.