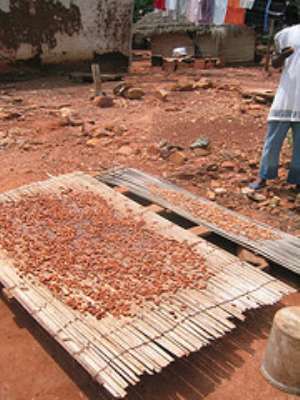 The Day Chocolate Company, a part of the fair-trade practicing Divine Chocolate Company, hopes to expand in the US.
Divine Chocolate, a fair-trade enterprise partially owned by cocoa farmers in Ghana, launched a new company in the United States on a snowy Valentine's Day.
The brand's U.S. launch, in Washington D.C., where the company is headquartered, is the result of years of development. Until 1993, all marketing of Ghana's cocoa production was controlled by the government. Soon after legislation that year that liberalized trade and marketing, a group of Ghanaian farmers organized a cooperative, Kuapa Kokoo, aimed at reaping the benefits of new trade opportunities.
Comfort Kumeah, a mother of five and an elected member of the farmers'union board, attended the U.S. launch. She said Kuapa Kokoo is organized democratically on community, regional, and national levels, with women in leadership positions at each level.
In 1997, Kuapa Kokoo decided to create its own chocolate company. Support came from three groups in Britain: the Body Shop company, the relief and development organization Christian Aid and Comic Relief, a group that uses comedy to raise money to fight world poverty. The next year, with a loan guarantee from the U.K. Department for International Development that enabled the farmers to secure commercial credit, the Day Chocolate Company was formed.
The company is part of the fair-trade community - a global movement espousing fair wages, equitable international trade regulations, environmental policies that promote sustainable practices and public accountability. According to the United Nations Conference on Trade and Development, cocoa prices are especially volatile due to overproduction and boom-bust cycles. Kuapa Kokoo farmers now receive a fair trade price of $1,600, a number close to the global market price, and a $150 social premium per ton of cocoa, distributed to farmers through the cooperatives' projects.
Because cocoa production is both labor-intensive and seasonal, the social premium provides health services, schools, safe drinking water, toilets, and other income-generating activities for the off-season such as soap-making and mushroom harvesting.
About 20,000 farmers currently benefit from participation in the cooperative. "For every bar of Divine Chocolate that you buy," Kumeah told attendees of the corporate launch, "you are putting a smile back on the faces of Ghanaian farmers."
The U.S. company is headquartered in Washington DC for a reason, said chief executive Erin Gorman, former program director of Co-op America and vice chair of the U.S. Fair Trade Federation. Divine Chocolate wants to be visible to national policymakers and to expand awareness of fair-trade issues.
In the U.K., said Sophi Tranchell, managing director of the Day Chocolate Company, parliamentary offices "lead by example", serving fair trade coffee in canteens and at functions. The brand has been successful, she said, because the company "offered a business rather than an aid solution" to the problem of unfair trade. Tranchell said the young company is already profitable, with plans to issue a dividend, and it hopes its U.S. counterpart will be a similar commercial success. Day Chocolate owns 26 percent of Divine Chocolate, whose other investors include Lutheran World Relief and Oikocredit.
Tranchell said the importance of the two chocolate companies stretches beyond the considerable benefits they can provide to the farmers who grow the cocoa. They can demonstrate what is possible. With agribusiness having come to dominate so much of the international cocoa market, she said, bigger chocolate companies argue that they don't and can't control what goes on at the farm level. "But the reality is that they can," she said, "because they are enormous companies."
"We do hope that by doing good business and doing well at it, we will raise the bar on how business is done," she said. We hope to set a good example, so that bigger companies will realize that you can run a big company and have a dignified supply chain."
At the launch at the Old Ebbitt's Grill, a Washington establishment near the White House, journalists and well-wishers were treated to a spread of chocolate desserts created by Marian Pitcher, pastry chef for the Clyde's restaurant group. Purely by chance, Pitcher is Ghanaian by birth.
The chance to participate in a project that can help transform the lives of rural farmers in her home country, she said, was an inspiration to use all her creativity. Besides, she said, the product "is a dream" to use. "The velvety feel of the chocolate, its fine flavor and the way it melts - how chocolate melts is a prime consideration for a chef - makes it a wonderful ingredient for cooking." Pitcher said she expects the chocolate to be a big success in the U.S. market.