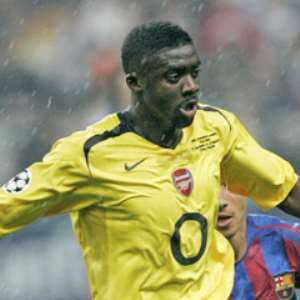 Arsenal captain Kolo Toure and Chelsea substitute John Obi Mikel apologised for their red cards after a fracas in the Blues' 2-1 League Cup final triumph.
Ivorian Toure, captain for the day, and Nigeria's Mikel were dismissed for triggering an ugly melee in the closing minutes and there was a red card too for Arsenal substitute striker Emmanuel Adebayor as players piled in.
Mikel told reporters: "It was an emotional thing and I was caught up in the middle of it. I'm really sorry about what happened, but I think I didn't deserve the card.
"I pulled him [Toure], the referee gave a free kick and he attacked me...why he attacked me I don't know."
Toure, who was wearing the armband in place of rested club skipper Thierry Henry, said: "It was great football apart from what happened at the end of the game.
"I was one of the players who was involved and I'm really unhappy about that and I just want to want to apologise. I regret my action."
Adebayor clearly felt hard done by from referee Howard Webb, saying he had got involved in the melee as a peacemaker.
"The referee told me I had hit somebody in the face. I can't remember that," he told reporters.
"When I ran over there it was to stop everyone, because I'm strong and I know I can stop a lot of players like Kolo because he knows me, he's like my big brother."
Arsenal struggled to restrain the Togo striker after the red card, but he defended his behaviour saying: "I didn't want to hit the referee. I didn't want to beat him ...I just wanted to ask him why he gave me the red card.
"I don't think I did anything wrong. I didn't hit anyone."
England midfielder Frank Lampard played down the incident, saying: "It stemmed from players wanting to win matches and back up their team mates.
"In the heat of battle, things like that happen, they escalate and now you can sit down and say you wish it hadn't happened. But people want to come and see a final that two teams want to win."