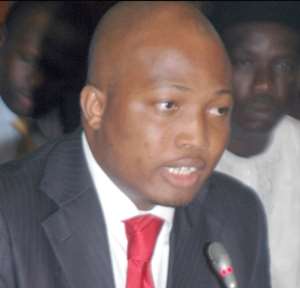 "Samuel would get under your skin! He must have been the prefect of troublesome babies who pierced the nipple instead of sucking it gently for the milk…He lives to bite, and bites to live."
So what at all did Sammy Okudjeto and Co. do to JJ Rawlings for him to describe them as "babies with sharp teeth?"
The crime must have been grievous enough to produce high titillations and contusions in the disposition of JJ, causing him to propound such a sweet metaphor of the "sharp-biting babies" into our political lexicon.
But l have come to one fearless conclusion, and it is this; Sammy Okudjeto is an irritating entity of a person! He can get under your skin like a bed bug and torment the life out of you with his sharp teeth to your ultimate jeopardy. Of this conclusion, l have no regrets. Let him tell us exactly what he did to JJ for our clarity.
Undoubtedly, he is one of the finest politicians Ghana has ever seen, honorable Samuel Okudjeto, MP for North Tongu. He first appeared on my radar as one of the warm-blooded youths who floated around Professor Mills during his presidential campaign.
The late Professor believed in youth power and so he mentored a few of them for national leadership. If l remember correctly, Sammy's only notable experience at the time was in student politics at the University of Ghana.
But l have observed his steady progress in the political space over time and l dare say that he has mastered the rules of the game very handsomely, and has metamorphosed into one of the most inspirational, daring, vibrant, liberally minded politicians of our time.
No matter which side of the political divide one belongs, it is impossible not to admire the bountiful energy, leadership quality and the nationalist outlook by which the honorable MP for North Tongu plies his trade. The only other politician who comes close to Sammy is Nana Akomea of the NPP. But Sammy is ahead by far!
Okudjeto is naturally soft spoken, but that's what makes him terminally dangerous. He burrows his teeth into things with avid voracity l am persuaded he must have been the prefect of troublesome babies who pierced the nipple instead of sucking it gently for the milk.
Somehow diminutive at the beginning of his political career, he has improved his looks significantly over time through the cosy life of political office and by marriage to the general conclusion that prosperity is now spread all over his demeanor.
Samuel would get under your skin! He has the gift to verbally pummel his opponents into anger, if not to submission. No wonder, misbehaving politicians fear him like the spitting cobra.
Even our own JJ of blessed memory, father of the party by which Sam is now a flourishing member, spent sleepless nights fretting over Samuel's verbal raids of atrocity against his person at the height of the JJ/Professor Mills political feud.
Finding Samuel uncontainable, JJ gave up on him entirely, but not before he gave him a parting shot, describing him and other biting boys as "babies with sharp teeth". What else could anyone do to Sammy? Even the ex-president was helpless against him!
But his strongest weapon is not his sharp, baby teeth. It is the waves of passion, his express articulation, and most importantly his nationalistic outlook of politics that sets him apart from the others. Even his critics respect his views whether they are sensible, mendacious or stupid on that score.
I remember Sammy's beautiful presentations during the abortive parliamentary inquisition of the Finance Minister on issues relating to his mismanagement of the economy. There again, he spoke the mind of most Ghanaians fearlessly and bravely, distinguishing himself not only as an MP, but one with principle and political
promise. This country has not seen the best of Samuel Okudjeto yet! He would be the next big thing for Ghana a couple of years from now at this rate.
Yet again, Samuel is at his biting best, biting and chewing down the foundations of the national cathedral and trying to completely eat up a popular prophet connected to the cathedral project for possessing two separate identities against the law.
And on this matter of double individual representation (Adu Gyamfi for the laity and Kusi Boateng for the clergy), Sammy is the only visible crusader, the lone voice of conscience.
Everyone else is dead quiet. The bishops are quiet and so too are the politicians of the ruling party. The morality watchdogs are quiet, the security investigators are also quiet with the exception of Sammy who unfortunately cannot shut up or be made to shut up. He lives to bite, and bites to live.
JJ was right, afterall. If Ghana had more Sammy Okudjetos, national interest would overtake partisanship as the key to our development.