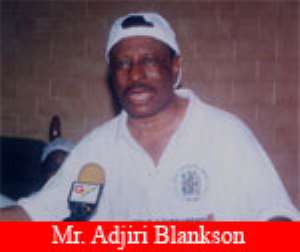 TAXI CAR OWNERS and drivers operating in the Central Business District of Accra have taken the Accra Metropolitan Assembly to court.
In a writ filed at an Accra High Court, Messrs Albert Ahwireng and Ebenezer Obeng Asante, a car owner and driver respectively, stating they represented taxi owners and drivers, claimed AMA lacked the power to prescribe, let alone, instruct taxi drivers to wear a uniform (dark blue), not to mention directing taxi owners to emboss the front doors of their vehicles.
According to them, AMA did not consult car owners, and only imposed the ¢250,000 embossment fee on them.
"Drivers are not employees of AMA, as such AMA has no legal right to direct and threaten them with arrest and prosecution if they fail to abide by the foregoing," they contended.
They felt, even if the embossment fee was accepted, a time would come when it would be increased.
"Such instructions violate Article 17 of Chapter 5 of the 1992 Constitution," they pointed out.
The National Executive Council of the GPRTU, they said, acted without the authority of its members when it agreed with AMA to comply with the instructions.
The plaintiffs complained further about loss in income during the three days that vehicles had to queue for embossment by only the Sikkens Group of Companies in Accra.
They foresaw also that, "Whenever there is a dent on the vehicles at any given time, it would be re-embossed for another fee."
On their dress code, they argued that there was already a dress policy within the Union to make them decent and attractive in public.
And on the embossment still, they posited that in requesting compliance with the embossment, AMA was seeking to usurp the powers of the Department of Motor Vehicles.
The plaintiffs therefore prayed the court to restrain the defendants, their assignees, agents and representatives from enforcing or implementing in any form, these instructions from AMA to taxi drivers and taxi owners.
It would be recalled that on January 18, this year, AMA, at a press conference in Accra, instructed taxi drivers and owners to put on a new uniform and emboss their vehicles.
In addition to all others, the plaintiffs felt the order was discriminatory against them, as it was issued to only those plying their trade within the Central Business District of Accra.