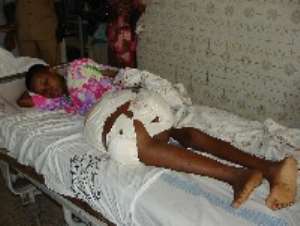 Afi Kumah, the 13-year-old primary six pupil now battling for her life at the St. Joseph's Orthopaedic Hospital, Koforidua, has appealed to the public to pray fervently for her as her condition continues to deteriorate.
This follows the conclusion by the medical authorities at the hospital that Afi's case is "a very difficult task."
Afi fell from a staircase at the Awutu Fianko primary school, where she was attending school, and her thigh subsequently became swollen.
When the Times visited Afi at the hospital on Wednesday, she looked very weak but managed to express her gratitude to all those who had donated and helped in various ways to get her the medical treatment.
She urged all to continue to pray for her as her condition had grown worse.
Dr. Christian Nimako Boateng, an orthopaedic surgeon at the hospital, on Tuesday told the Times that in preparation for an operation on Afi's swollen leg, "we tried to raise her haemoglobin level which was at 3.3 but after a long period, the highest we could register was 5.0."
He said all attempts to improve the condition to enable her to undergo surgery had not been successful.
Dr. Boateng said he had been working closely with the head of the hospital's Orthopaedic Department, Dr. J. Cassals on the case but "it is really a difficult task and we have all been concerned trying to do our best."
Meanwhile, the Christ's Peace and Love Evangelistic Ministries International, based in Begamo, Italy has donated 450 euros towards the medical treatment of Afi.
Mr. Kwabena Ackon, a member of the church, who presented the money in Accra yesterday, said the money was the widow's mite of the church members who read about Afi's situation on the Internet.
At the ceremony, Mr. R. Harry Reynolds, the Group Editorial Manager, thanked the church members for their fellow human feeling and said that "it is good to show love to the sick and needy.