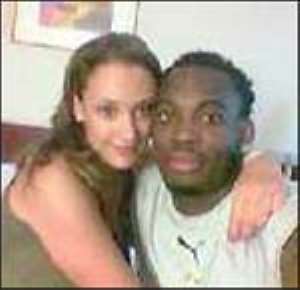 Cassie Sumner, a London-based top model, has revealed the inner bedroom secrets between her and Ghanaian international and Chelsea star, Michael Essien.
Speaking to a local newspaper in London, Cassie said Essien loved kinky sex and Mcvities biscuits. Despite that, she said Michael was not good in bed.
"I've got to be honest, sex with Michael wasn't fantastic. In fact towards the end of our relationship we only did it once every three months."
"It's like being a slave to his every whim and there's no let-up," added WAGs Boutique star, Cassie.
She described how Essien was obsessed with purity and cleanliness. "He hated me wearing cleavage tops because he told me they were only for him to look at.
"He loved me to wear white lingerie because he's obsessed with being clean," said Cassie, 24.
"He said white was virginal and was what girlfriends should wear. The same went for where we had sex. It was always on crisp white sheets on his bed and never anywhere else."
According to her, Essien's weird demands ended up driving her crackers.
"When you're with a footballer who thinks money can buy everything, you're expected to have kinky sex whenever they want, do whatever they want, be at their beck and call 24/7," said Cassie, who dated 24-year-old Essien for 17 months until this week, when he bizarrely denied they had any relationship at all.
But Cassie was richly rewarded for being Essien's "slave" as she shared his spend, spend, spend lifestyle.
"Once, he cleared an £8,000 bill for champagne with one swipe of his debit card. He only drank two glasses," she said.
He also bought her a £22,000 BMW.
And she admitted: "My wardrobe's seriously expanded since going out with Michael."
On a break in Monaco last July, Essien, who earns £3 million a year, splashed out about £8,000 on clothes for Cassie in one day alone.
"We shopped until we dropped in places like Louis Vuitton and Prada," she revealed.
Nine months ago, Essien demanded that Cassie, a £3,000-a-night vice girl, move closer to his mansion in Cobham, Surrey, where she rented a £1,500-a-month flat.
"I've been there nine months and he paid my rent six times." She added: "Michael was always leaving cash out for me to spend."
Heartbroken Cassie hit back at Essien's claim they were never a couple.
She said: "It's ludicrous. He welcomed me into his life and his bed."