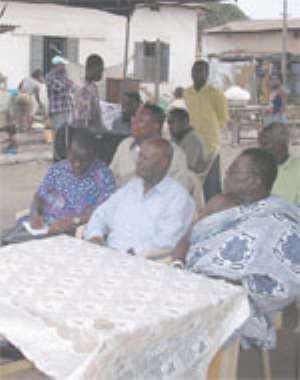 –James Town Residents
SOME RESIDENTS of the Ngleshie Electoral Area in Accra Central have kicked against moves to instal toilet facilities in their homes.
To them, the public toilet in the area should rather be rehabilitated as the various homes in the area lacked adequate space to accommodate toilet facilities.
The residents were reacting to a statement by Hon Raymond Tettey, the assembly man for the area at an open forum held to inform them that the Accra Metropolitan Assembly (AMA) had earmarked $150 to help each house own a toilet facility.
The residents insisted also that the roundabout in front of the chief's palace be reconstructed, and street lights in the area repaired to beautify the area.
Touching on discipline, the assembly member advised that they eschewed abusive language in addressing people, especially the elderly in society.
This was in response to a question posed by a member, which in effect showed disrespect and disregard for the chief of the area who was the chairperson at the function.
On the filth in the area, the assembly member advised that they desisted from the habit of throwing filth into the gutters and the Korle Lagoon, pointing out to them that the same gutter that they filled with excreta served as the places by which food vendors sold food for people to buy.
The Assembly member further advised the people to take advantage of the capitation grant and the school feeding programme and send their children to school.
The Paramount Chief of Akumanjen in Ga Mashie, Nii Ayekai III noted that the people were fond of disturbing the assembly members with monetary issues, advising them to put a stop to it, since assembly members were not being paid by Government.
Rather, he urged the people to support the assembly member to develop the area.