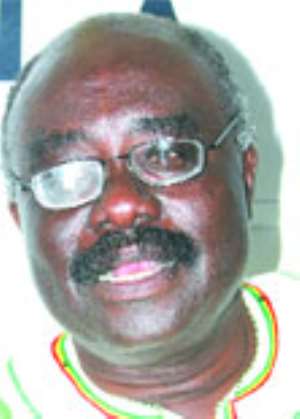 There was confusion among members of the Finance Committee of Parliament yesterday, following the reading of a response of the Chief Executive of the [email protected] 50 Secretariat to the Committee's invitation to appear before it to brief it 'On Financial dealings of the Secretariat,' regarding the $20 million Parliament approved for the Secretariat.
The Chief Executive of the [email protected] secretariat, Dr. Charles Wereko-Brobby, on Wednesday kept the finance committee waiting for three hours in the Speaker's conference room, where he had been summoned to appear before the committee.
The Chronicle gathered that the @50 CEO refused to appear before it and submitted a letter to the committee Chairman at about 1: 45 pm on that day.
The letter, which was addressed to the finance committee and copied to the Chief of Staff and Minister for Presidential Affairs stated that the Ghana @ 50 Secretariat is not a body corporate.
The [email protected] CEO said the Secretariat 'acts as a special purpose support centre for the National Planning Committee, which is a sub-committee of the Cabinet of the Government of Ghana,' as such 'I am passing on the request to the Chairman of the National Planning Committee for his consideration and response as appropriate.'
Whilst some members argued that it was the fault of Parliament, for not channeling the invitation through the Chairman of the national Planning Committee, others countered that since Parliament had approved the money for the Secretariat it had every right to summon the CEO to account for same.
Parliament's invitation to the [email protected] Secretariat comes in the wake of recent public calls and concerns for transparency and accountability in the dealings of the Secretariat.
The Minister for Public sector Reforms, who is also the MP for Komenda Edina Eguafo Abirem (KEEA), Dr. Paa Kwesi Nduom, last week raised the issue of accountability with regard to the Secretariat's spending on the floor of Parliament.
That call however, was met with a sharp criticism by Dr. Charles Wereko-Brobby, who indicated in a radio interview that the call was inappropriate because as far as he was concerned the auditor-general would at the appropriate time audit the Secretariat's accounts.
That position was re-emphasised at a press conference held by the national planning committee early this week.