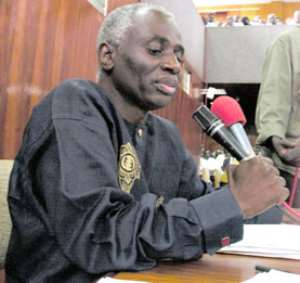 The Fast Track High Court in Accra has for the third time deferred judgment in the case of Tsatsu Tsikata, former Chief Executive of the Ghana National Petroleum Corporation (GNPC), who is being tried for causing financial loss to the state, because he has filed an appeal before the Supreme Court.
The court, presided over by Mrs. Justice Henrietta Abban, a Court of Appeal judge, had to defer the judgement yesterday to April 18, because Mr. Tsikata has a notice of appeal pending before the Supreme Court in connection with the case.
The appeal seeks to find whether or not the International Finance Corporation (IFC) should be subpoenaed to testify in the trial.
The IFC had argued that it had immunity from the processes of the country's courts, a position the trial court and the Court of Appeal had upheld.
But Mr. Tsikata contends that the refusal to invite the IFC to testify was "a miscarriage of justice".
The court decided on the date in consultation with Mr. Tsikat's lawyers, Professor E.V.O Dankwa and Major RS Agbenator (rtd). The prosecution was not in court.
Mr. Tsikata has been charged with three counts of causing financial loss of about ¢2.3 billion to the state through a loan he, acting on behalf of the GNPC, guaranteed for Valley Farms Limited, a private cocoa producing company in 1991. He is facing another count of misapplying public funds.
Valley Farms contracted the loan from Caisse Centrale, now Agence Francaise Du Development (AFD) in 1991, but defaulted in payment thus compelling GNPC, which acted as guarantors, to pay the loan in 1996.
Mr. Tsikata has pleaded not guilty to all the charges and is on bail.
Source: The Ghanaian Times