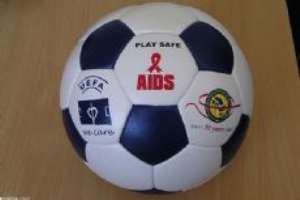 The Ghana Football Association has presented 2,000 footballs through the Education and Sports Ministry to be distributed amongst some selected schools in the country.
The donation by the FA is to help schools across the country continue with the development of the game and also produce a good number of ambassadors for the sport.
Aside the development of the game at the school level, the footballs carry a special HIV/AIDS prevention message that seeks to create the awareness of the epidemic.
Ghana was one of the beneficiaries of the UEFA-CAF donations of footballs to be used by schools in the campaign against HIV/AIDS.
The UEFA initiative has 81,000 balls manufactured in Africa distributed for use in schools located in all CAF member associations under 'Alive & Kicking' banner.
Ghana, Egypt, Gambia, Nigeria, Sierra Leone, Sudan, Ethiopia and Liberia are the first beneficiaries of the project.
According to FA president, Kwesi Nyantakyi, the football association recognises the role and impact of schools in harnessing talents for the game and believes the donation would assist all beneficiaries to continue to develop worthy ambassadors for the sport.