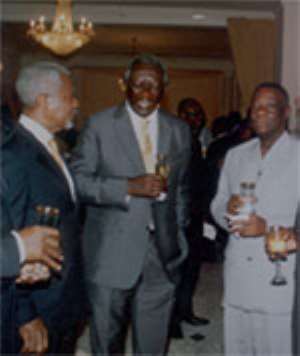 Appearances are very important in a leadership role because people do judge a book by its cover. Being the best dressed is not just about choosing the right clothes. Having the right accessories, shoes, hair, and make-up also matters.
President George W. Bush is one of the best dressed because of his ability to look conservative in either a suit or cowboy attire. When he's at the White House, you can catch him in a traditional blue or black suit with a red or light blue tie, always representing the American flag. At the ranch in Texas, he still manages to look good in a plaid shirt, denim jeans, as a cowboy hat and boots complete his hard working American look. Prime Minister Tony Blair is another who knows how to accessorize a conservative suit by wearing colorful ties to accent his black or blue suit. Also, Prime Minster Shaukat Aziz of Pakistan is no stranger to this accenting-tie look. Aziz, wore a dark blue suit with a sky blue shirt and a pink tie underneath. This was very daring since it is hard to get men to wear pink. The leader of Spain Jose Luis Rodriquez Zapatero stepped outside of the box by wearing a light gray suit with a gray, blue and white striped tie instead of the traditional black or blue suit. All four of theses leaders have tailored the conservative style to represent themselves.
Non-western traditional looks are always a plus because they illustrate individualization. Jamaica's PM Portia Simpson Miller, Hamid Karzai of Afghanistan, Pres. JA Kufuor of Ghana, Kim Jong -il of North Korea, Ricardo Maduro former President of Honduras and Pope Benedict XVI. PM Simpson Miller is usually wearing bright colors like yellow to represent her Caribbean heritage. Karzai mixes it up with a suit underneath a robe which has very detailed patterns on it; the look is completed with head dress. Kufour looks very luxurious in is white shirt trimmed with gold patterns. Kim Jong-il, who has been called a playboy by the media, wears platform shoes with his bouffant hairstyle. Ricardo Maduro also looks like a playboy with his slicked back hair and casual attire consisting of button up shirts and slacks. He usually has the first few buttons on his shirt open, exposing his chest. The last, but not least, is the "Prada Pope" Benedict XVI, who wears fabulous Italian red loafers.
These leaders understand the meaning of "express yourself through what you wear", whether it is excessive or not. That is what makes them some of the best dressed leaders in the world today.
Originating at www.thesop.org