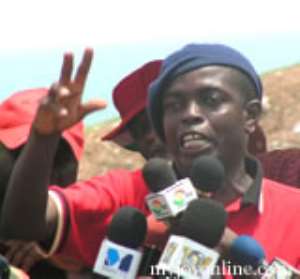 The Committee for Joint Action says it will not be intimidated by the name calling tactics adopted by the Chief of Staff and Minister for Presidential Affairs, Kwadwo Mpiani.
Addressing a news conference in Accra earlier in the week, Mr. Mpiani who is also Chairman of the Jubilee Planning Committee described members of the CJA who were planning to go on a procession on March 6 as anarchists.
But the CJA said such pronouncements from high ranking officials like the Chief of Staff was a dangerous development which needed not be encouraged.
The group said the statement has the potential to intimidate and coerce the police.
The CJA was planning to give what it said was an appropriate response to Mr. Mpiani by close of Thursday.

On its intended March 6 procession, the CJA said it would do all it should within the confines of the law to hold the procession to democratically express themselves.
The group said it did not expect that any court would grant the wishes of the police or any other institution, which was seeking to prevent them from commemorating the Independence Day.
The CJA said it was alarmed that the State was jealous at a procession which was not seeking to object to any government policy but to compliment activities to mark the Independence Day.
According to the CJA it would go ahead with the procession on March 6 and not on any other day else it will lose its meaning as an expression of the remembrance of the events of independence.