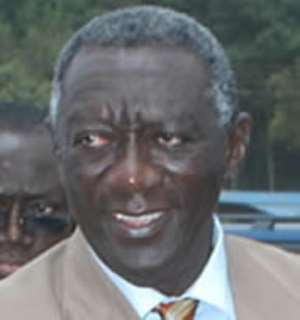 1,300 prisoners across the country are expected to be freed under an amnesty to be granted by President Kufuor on Independence Day.
The gesture, which forms part of the jubilee celebrations, was announced by the Director of the Ghana Prisons Service at the inauguration of a library complex for condemned prisoners of the Nsawam Medium Security Prisons.
Consequently, the Attorney-General in consultations with the Prisons Council has feverishly been working to authenticate the list of prisoners to benefit from the amnesty.
Meanwhile women's groups have appealed to the President to grant amnesty to women prisoners with children less than five years.
The Convener of Network for Women's Rights in Ghana Dr. Dzodzi Tsikata who made the appeal in an interview with Joy News said it was wrong to punish mother and child for an offence.
She was therefore urging the President to take a critical look at the situation of nursing mothers in prisons when granting amnesty.
But most importantly, Dr. Tsikata said the President needed to consider carrying out a comprehensive report in the prisons instead of the annual ritual of granting amnesty.
According to her, the State ought to find more creative ways of punishing offenders especially those who did not pose any threats to society.
Dr. Tsikata's appeal followed a similar one by the Arch Bishop of Accra, Charles Palmer-Buckle.
Presidential Press Secretary, Andrew Awuni said the President would give special attention to women when the time came for him to grant amnesty.
Mr. Awuni explained that although the decision was the President's prerogative, he would consider all the appeals for amnesty.