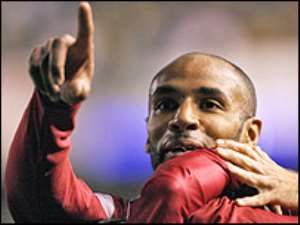 Mali striker Fredi Kanoute has opened up the possibility that he could leave Sevilla this summer if he doesn't get a big pay rise from the club.The Spanish first division's leading scorer with 18 goals in 23 games admitted that other clubs have been enquiring about whether he would be interested in moving from the 2006 Uefa Cup winners.
"These are things to talk about with Monchi (Rodriguez, Sevilla's sporting director) and the club president and this will happen in the coming days," admitted Kanoute.
However, Kanoute made it clear that he is not going to make demands on the club that they cannot meet.
"I am very happy at Sevilla because now they are one of the best clubs around.
"It could be that it will be easier to fight for important things here than it would be at other clubs - in principal, it should be no problem to extend my contract here," added the 29 year-old France-born striker, whose deal at Sevilla runs until the end of the 2008-09 season.
Sevilla currently lie second in La Liga, just behind leaders Barcelona on goal difference, and they are fighting for their first Spanish crown since their one and only previous triumph in 1946.
Kanoute is in the running for the European Golden Boot award and also the prestigious Spanish first division's Pichichi award, which goes to the top marksman.
Last season, Barcelona's Samuel Eto'o became the first African player to lift the Pichichi.
"I am sure that in France and England, they must think I have a better twin brother because this season the goals have been going in like they didn't before," joked Kanoute.
Despite their success over the last two seasons, Sevilla may yet decide to cash in on one of their biggest assets regardless of whether he wants to go or not.
Money has always been a problem at Sevilla and they have a reputation for developing and then selling players in order to balance their books.
Sevilla bought Kanoute for just US$8.5 m from English Premiership side Tottenham Hotspur in 2005 after he had struggled to make his mark in England, firstly at West Ham United before moving across London in 2003.
Sources at Sevilla have told the Spanish media that the fallen Italian giant Juventus are already prepared to pay US$23.6m for Kanoute.
Some pundits have speculated this may be a ruse to assess what the player is worth in the transfer market, but there are rumoured to be more big bids on the table from other Spanish and Italian clubs.