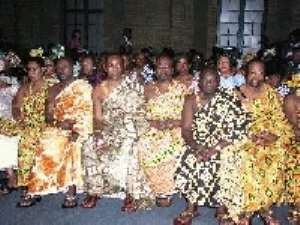 The Chiefs and elders of 10 communities around the Boabeng-Fiema Monkey sanctuary in the Nkoranza district of Brong-Ahafo have taken steps to protect the animals and the forest against destructive human activities.
The Chiefs includes Nana Amponsah Boateng II, fetish priest in charge of the Abudwo shrine at Fiema, Nana Amoa Awuah, fetish priest of Boabeng Daworo shrine and Nana Okofo Tabiri Adjei II, Chief of Boabeng.
Nana Amponsah Boateng told the Ghana News Agency that the steps taken at a meeting was also aimed at promoting unity and co-operation among the Chiefs to enable them to organise their people to undertake development programmes.
The Chief expressed his regret about how some unscrupulous persons had been disturbing the monkeys in the sanctuary and impressed on every community to form a task force to help track down the movements of such people.
"Anyone who will attempt to enter the forest for hunting purposes will be arrested since such activities affect the development of the sanctuary", he warned.
The fetish priest charged Assembly Members, area committee and unit committee members to ensure that no one uses a chainsaw to fell trees in the forest.
He said the chiefs also agreed to hold an annual festival in February to educate the youth about the history of the sanctuary.
Nana Amponsah Boateng explained that the monkeys were believed to be the offspring's of two shrines in the area, namely Abudwo at Fiema and Daworo at Boabeng.
He announced that the first Boabeng-Fiema monkey sanctuary festival would be held on Saturday, February 24, this year.
Meanwhile the police at Nkoranza have arrested and placed in custody a 40-year-old farmer at Fiema for allegedly killing one of the monkeys.
Members of the Nkoranza district anti-bushfire campaign team arrested Kwabena Donyina as he rode on a bicycle towards Nkoranza carrying the dead animal in a bag.
Mr. John Kwasi Kwao, leader of the team told GNA that while on their normal patrol duties they met Donyina on the road and when they saw the bag they suspected him to be returning from a hunting expedition.
Mr. Kwao who is also a Senior Disaster control officer at the Nkoranza district secretariat of the National Disaster Management Organisation said they were astonished to see that Donyina had managed to kill the sacred animal, an action considered a taboo in the area. The team took Donyina in their vehicle and sent him to the Abodwo shrine where the priest expressed regret about the farmer's behaviour. The fetish Priest later performed the necessary traditional rites and buried the animal at the monkey cemetery near the sanctuary and Donyina was handed over to the police for further investigations.