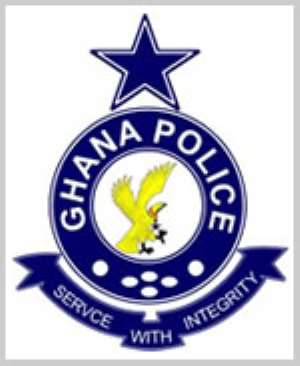 The fugitive policeman on trial with three other policemen at the Accra Fast Track High Court for allegedly aiding a suspect to abscond with 2,280 kilograms of cocaine admitted in his statement that they received an unspecified amount in dollars from the fugitive cocaine owner.
A prosecution witness, Detective Inspector Justice Oppong told the Fast Track High Court on Tuesday during cross-examination by Ahmed Musah, counsel for two of the accused persons, that Sergeant Samuel Yaw Amoah indicated in the statement that his share was $3,000.
He was testifying in the case in which General Lance Corporal Dwamena Yabson, General Sergeant Daniel Nyarko, General Lance Corporal Peter Bondori and Detective Sergeant Amoah, who is on the run are accused of collecting money from the owner of the cocaine, Dakeh and allowing him (Dakeh) to abscond with the narcotic drug.
The three have been charged with two counts of engaging in prohibited business relating to narcotic drugs and corruption by a public officer.
They have pleaded not guilty to both counts.
According to the Daily Graphic, Inspector Oppong said although the accused persons had denied accepting money from Dakeh, it was clear that they met him at the Kpone Beach and from there even went to his Community One residence in Tema.
He however did not tender Sgt Amoah's statement because he was at large.
The witness said on April 26, 2006, Corporal Bondori crossed Sgt Nyarko, Corporal Yabson and Sgt Amoah with a taxi when he saw them and the van carting the suspected cocaine.
He said on meeting Dakeh, he (Dakeh) told the accused persons, "If it is because of cocaine that you are here, it is gone."
Inspector Oppong denied that Sgt Nyarko's statement was taken under duress in order to drop a more serious offence against him and that he voluntarily wrote his statement after his arrest.
He further denied subjecting Sgt Nyarko to an identification parade, during which his name was mentioned to enable some fishermen to identify him.
He agreed with counsel that nobody arrested Dakeh but his vehicle number was mentioned by Sgt Nyarko in his statement and that enabled the police to retrieve it from Kpone Katamanso where its tires had been removed and the vehicle jerked and covered to outwit the police.
In a related development, a shipping superintendent and registrar of ships on Tuesday told the Accra Fast High Track Court hearing the case involving the missing cocaine on board the MV Benjamin that the vessel was registered with the Ghana Maritime Authority in April 20, 2000.
He however said its crew at the time of arrest by the security agencies was not registered.
Source: Daily Graphic