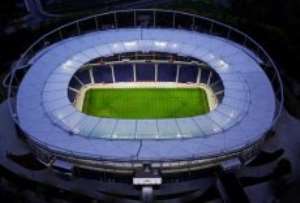 Soccer governing body, FIFA would be inspecting some 113 stadiums around the world to be used as match venues for the World Cup qualifiers.
The sport body is hopeful of ensuring that the safety of match venues meets its criteria during the qualifying rounds for the 2010 to be hosted by South Africa.
After recent events in Italy, safety standards both on and off the pitch for qualifying matches have been highlighted and are being made ever tighter.
According to FIFA, security in the various match venues is a major priority when the qualifying rounds begin later in the year.
And as FIFA carries out its tour of the stadiums in the coming months, only FIFA-approved venues would be allowed to host qualifiers.
FIFA would also hold an advanced safety management seminar to help nations ensure safety standards on the field of play and also in and around the stadiums.
Ghana, one of the 31 nations who would be vying for a place at the World Cup from Africa's five slots would have four stadiums – two newly constructed and the others renovated, available before the end of the year for the qualifiers.
And Ghana, to host the 2008 African Cup of Nations are expected to measure up to the FIFA-approved standards with the four stadiums that would host the sixteen African nations.
The majority of the teams who have successfully submitted their application by 1 March will go into the various pots for the preliminary draw, which will take place on 23 November 2007 in Durban.
Africa's qualifiers will get underway towards the end of the year. But should more than 48 nations apply to take part in the qualifying phase, then pre-qualifying ties will be held over two legs, on 13/14 and 17/18 October.
The winners of these ties will then go into a 48-team pot for the draw on 23 November.