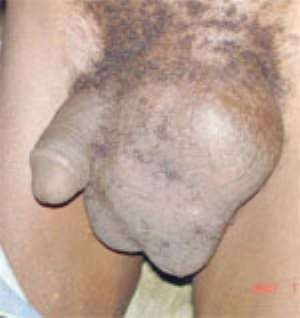 •As Hernia Kills One
FEAR HAS gripped residents of Sarakorpe and other communities in the Adaklu-Anyigbe district of the Volta Region, following the death of one hernia patient at Sarakorpe on February 9.
Every resident, especially patients, fears becoming the next victim if prompt measures are not taken to ensure early treatment.
Narrating the events to Daily Guide on Saturday, the Unit Committee chairman of the area and relative of the deceased, Emmanuel Torvieku Kormi said the day before his death, 50-year old Korsi Tedeyi complained of severe sharp pains in his abdomen and scrotum, but the residents were not alarmed since such complaints were usual of victims of the disease.
He said at about 2am the following dawn, his situation became more critical and he fell into coma but could not be rushed to the hospital, as there was no means of transport.
He died two hours later, leaving behind 8 children and a wife.
Mr. Tedeyi was one of those selected to undergo surgery and treatment by the Harvest for African Children Foundation, an American NGO support programme to enable a number of those living with the disease receive free medical services.
Mr. Richard Zulu Adukpo, Local Coordinator of the American NGO expressed worry about the man's death and said the situation had thrown the entire village into perpetual fear.
He therefore called on those who promised to assist the affected to honour such promises.
While appreciating the concern and sympathy expressed by the general public and the government following news publications on the disease, Mr. Adukpo expressed regret about the fact that only two of the affected people had since been operated upon through the support of the American NGO while the fate of the rest, numbering over seventy, was still in the balance.
He therefore made a passionate appeal to the Volta Regional Minister, Mr. Kofi Dzamesi, to honour his promise of bearing the cost of surgery for 15 affected children, as the conditions of such children were fast deteriorating by the day.
"We will like to seize this opportunity to appeal to all well-meaning Ghanaians, particularly the Asantehene, to come to the aid of our suffering brothers and sisters," he stated.
Meanwhile, a free National Health Insurance Scheme registration is ongoing in the affected areas, with the Adaklu-Anyigbe District Assembly taking up the payment of premium for all clients.
Investigations revealed, about 403 residents had already been covered, while negotiations with various stakeholders were underway, to enable all those affected enjoy free treatment under the scheme.