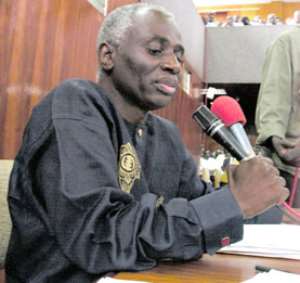 It is not certain that the final determination in the case in which Tsatsu Tsikata, a former Chief Executive of the Ghana National Petroleum Corporation (GNPC), charged with causing financial loss to the State, would come off on February 22, 2007.

On December 7, last year the accused was expected to appear before the Fast Track/Automated Court in Accra, presided over by Her Lordship Mrs. Justice Henrietta Abban, Justice of the Court of Appeal with additional responsibility as a High Court judge, for the pending judgement.

This was deferred to February 22, because the lead counsel for the former GNPC boss had told the Fast Track Court that the Defence Team "was going to the Supreme Court" to challenge a ruling of the Court of Appeal's against his client.

The defence team said it was filing a Notice of Appeal at the Supreme Court.

Tsatsu went to the Court of Appeal to challenge the FTC's decision not to call the International Finance Corporation (IFC) to testify in his trial.

Tsatsu is charged with three counts of willfully causing financial loss of 2.3 billion cedis to the State through a loan he, on behalf of GNPC, guaranteed for Valley Farms, a private company, and another count of misapplying public property.

Valley Farms contracted the loan from Caisse Française de Dévéloppément in 1991, but defaulted in the payment, compelling GNPC, which acted as the guarantor, to pay the loan in 1996.
On Monday when the Ghana News Agency Court Correspondents went to the Supreme Court, there was no trace of the application for the appeal.

At the Court of Appeal, where the "Notice of Appeal to the Supreme Court" was to be initiated, the clerks could not immediately say anything about it.

The Rule is that because the appeal was being initiated against the Court of Appeal, it was proper to start the process from the Court of Appeal.

This makes it uncertain that the FTC could give the final judgement on the case on February 22 since in any case the FTC would have to wait for the outcome of the Supreme Court's determination.

Prof. Emmanuel Victor O. Dankwa and Major (rtd) Rowland Agbenato are for the defence team, while Mrs Gertrude Aikins, Chief State Attorney, is representing the State.
Source: GNA