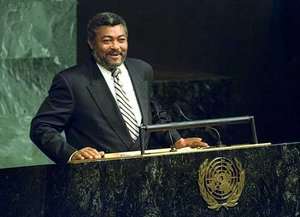 The row of former President Jerry Rawlings playing down the celebration of Ghana's 50th anniversary as a sovereign country from British colonial raises disturbing questions about Ghana's progress. As a development project, Rawlings has ruled Ghana more than any Ghanaian dead or alive. This makes his dim view of 50 years of Ghana's corporate existence bizarre, infantile, and unbecoming of not only of man of his age – he is 59 years – and as former President, but a rough view of the state of Ghana's progress, from the creation of the nation-state to now, giving Ghanaians a deeper view of what forces have not let them develop as they have wished. In this sense, Rawlings cannot be scoffed off by the Ghanaian chattering class: for if Ghana is good or bad today, Rawlings is heavily responsible.
Rawlings' disturbing actions towards the [email protected], and by implications the Ghana nation-state, not only weakens the celebration's spirit but it speaks of the degree of understanding of a man who ruled Ghana< /st1:country-region> for the better part of its 50 corporate years – almost 20 years. Still, it is hard to think of anything in worse taste than a man who has rule a country for almost 20 years having nothing to do with how well the nation-state is doing its 50 years. At a deeper thinking, Rawlings reveals the development misunderstandings Ghana< /st1:country-region> has experienced since its establishment some 50 years ago.
If we see Ghana through Rawlings, then his quarrelling with the [email protected] celebration, is a spittle-spraying indictment of all that is Ghana&l t;/st1:country-region>, minus him, because he is above error, and illustrates the principle that a person, when ranting about others, often describes himself. Rawlings sees nothing good in Ghana to celebrate and rants against [email protected] From 1979, when he seized power in a bloody military coup and ruled variously as military dictator, till 1992 when he retired as a democratically elected civilian president, a greater part of the interpretation of Ghana's progress revolves around Rawlings. If Rawlings gives gloomy comments about the state of affairs of Ghana's progress, he is in a way describing conditions outside his office and home windows.
By nature not giving to balanced thinking, Rawlings' dim comments about [email protected] is not only about clash of political visions – the capitalist-oriented ruling National Patriotic Party (NPP) and his opposition social democrats, the National Democratic Congress (NDC), but his apparent introspection confront his failures as ruler of the Ghanaian society and morality, and manager of the political and economic realm, and the evil, fascistic dreams that the Ghanaian society emanate with vivid results. Like his entire predecessors, Rawlings ruled Ghana with shallow grasp of what is the Ghana nation-state, the values that are to run, making the Ghana nation-state started from the wrong footing.
By not managing and seeing Ghana initially from its cultural values and experiences, which would have simultaneously enabled him and his associates use the enabling aspects of the culture for policy-making and refine the inhibitions within the culture that have been stifling Ghana's progress, Rawlings is hugely responsible for any dim view he sees Ghana today. So the natural question to put to a Rawlings who ruled Ghana for almost 20 years today is how far you went in creating the cultural continuities deeply needed in concert with other ex-colonial values to motor Ghana's progress. Critics of Rawlings project onto him the darkest characteristics of Ghana, seeing him as a ruler who had weaker grasp of the forces of progress that was to propel Ghana's progress.
In little-implemented remarks, Rawlings has variously spoken of the Japanese success but failed to appropriate from them their skills in hybridizing Western values and their own standards in Ghana's development process. Rawlings largely carried on the management of Ghana not only like his forerunners, whose rule did not reflect deeply the authentic Ghanaian environment, as international development literature argues, but the ex-colonial structures and contents that suppressed Ghana/African values in the broader schemes of Ghana's progress. As Rawlings makes noise in the run-up to Ghana's Golden celebrations, Ghanaians should sought his insight into the deeper forces that run Ghana and whether he understands them. Like his predecessors, the answer will be confusing and disturbing.
Rawlings rantings against Ghana's Golden Jubilee reminds me of a tragic Nkrumah-like figure, an unwavering, under-appreciated leader committed to a difficult cause, unbending in his vision of fostering Ghana progress but have shaky grasp of the values that are to propel Ghana's progress because of the schisms that have resulted from Ghanaian values and its ex-colonial ideals. Nkrumah believed strongly that Ghana will progress through the ex-Soviet Union-type socialism. Rawlings earlier went for the socialist cause but rapidly changed cause and quickly embraced heavily Western-oriented capitalism, with the World Bank and the International Monetary Fund virtually running Ghana's economic show and touting Ghana as a showcase of Western development paradigms. In all these, Rawlings failed to copy from the Japanese he has variously praised: failing to blend Ghanaian values and that of the West in Ghana's development process.
In Ghana's struggle for progress, I like the Rawlings story as a lesson in the progress of Ghana. Raw and largely unstained by Western education, yet Rawlings has weaker grasp of Ghanaian values and experiences, especially the enabling parts that are to motor Ghana's progress. In his almost 20 years rule, Rawlings made tough decisions, especially in the fragile security and economic spheres, and put different institutions and structures in place to help the future of progress of Ghana. But Rawlings displeasure of Ghana's development process today reveals that the contents of the institutions and the structures he put in place for Ghana's progress have little of Ghanaian culture values and experiences as the foundation to run Ghana's progress in Ghana's environment, making his huge efforts hopeless in the broader progress of Ghana.
This makes the Ghana's Golden Jubilee celebration more of a reflective exercise of the state of Ghana's progress. And Rawlings, who has increasingly projected himself as the only man who wants Ghana progress, should tell Ghana at the end of the celebration, his reflections of the state of progress of Ghana's 50 years corporate existence.