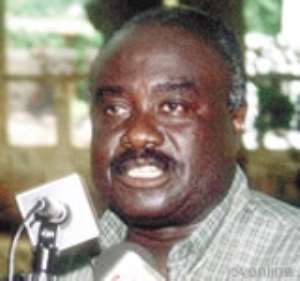 Dr. Charles Yves Wereko-Brobby, Chief Executive of the [email protected] Secretariat says Dr. Paa Kwesi Nduom, Minister for Public Sector Reform, is to be blamed for the country's present energy crisis.
Dr. Wereko-Brobby, who was speaking on Joy FM's Newsfile programme on Saturday, said he was upset with Nduom for failing to raise specific issues yet going ahead to request the [email protected] Secretariat to furnish Parliament with details of expenditure from the $20 million voted for the Golden Jubilee celebrations of Ghana's independence.
Dr. Nduom made the request on the floor of Parliament on Thursday, and also asked for how much had accrued from corporate donations and how it was being disbursed.
The Minister made the demands following what he said were complaints he had received from some of the people involved in the planning of the celebrations that indicated the lack of money.
Said Wereko-Brobby; "I think the important thing we all need to be very careful about is that people should not raise issues where there are none. I'm very very upset with Dr. Nduom's assertion... You know he manages public funds, I just hope that he would open up his own management of public funds for scrutiny.
"There is absolutely nothing that is going on at [email protected] which we cannot defend and we are not prepared to open up to the public... Nobody goes to collect money from Parliament and does not account for it. So when somebody raises issues like this, he must have specifics and those specifics must be brought out so they can be addressed.
"Don't forget it is this same Dr. Nduom who first accused me of causing financial loss to the State when I was at the VRA. Of course subsequently he retracted but the damage was done and without meaning to sound too pompous, I think that many of the problems we're facing today with our power crisis stem from the kind of behaviour Dr. Nduom displayed then."
Explaining his position, Dr. Wereko Brobby said while he was the CEO at the VRA, Dr. Nduom accused him, the VRA management and board, of several issues which eventually led to his (Wereko Brobby's) resignation because they did not want matters to get out of hand.
He said subsequently all the accusations were proven to be false. "And I do not want to hold brief for myself, but I think that many of the problems we've had in our power system stem from developments of that era which have carried on till now."
Dr. Wereko Brobby said people should be very circumspect in raising issues that may seem rather populist at the times such issues were raised, but subsequently may present formidable problems difficult to deal with.
"The point I am making is that almost four years ago we had a similar behaviour by Dr. Nduom, the consequences of which we are having to live with today and I do not want the [email protected] celebrations that we have all put a lot of effort into to suffer the same fate."