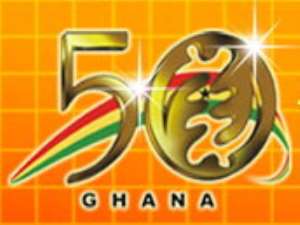 Y-3 Cultural Troupe, one of the groups to performSeries of cultural and other activities have been slated between March 2 and 11, as part of Ghana @50 Golden Jubilee Celebration.
Dubbed: 'Ghana on the move', it will be held at the Kwame Nkrumah Memorial Park in Accra and will feature local cultural troupes and artistes.
The Y-3 Cultrual Troupe will perform on March 2 at 6 p.m. until close down alongside Azonko Ensemble, GNSO and Ghanaian highlife musicians.
Then on March 9, they will again perform at the same time. Other traditional cultural groups and performers of gospel music to the rock shows will include Diana Akiwumi, Hephzi Ruas, Nana Asamoah Manu and Ghanaian highlife musicians.
King Ayisoba, will also be featuring alongside other cultural players.
The programme organised by Ghana's Golden Orchestral Delights (GGOD), whose professional recording of our national songs performed by a symphony orchestra, fused with traditional African instruments in Ghana is the first ever.
The programme is to be directed by Azonko Simpi, director and synchroniser of the project.
The disabled or physically challenged are not ruled out in these activities and will feature prominently with the support of choral singers.
Other juvenile activities including school songs competition alongside cultural night activities will be on the programme.
Authentic Ghanaian highlife music on records will be played predominately on each day from 10 a.m. in the morning to 3 p.m. in the afternoon. Personalities who will give remarks before and after are professors Irene Kwabena Nketsia and Atukwei Okai and Nee Parks, supported by the Actors Guilds.
Spectator