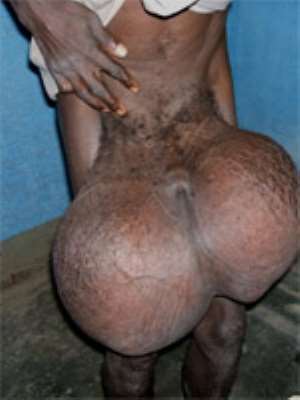 The National Democratic Congress (NDC) last Sunday organized one of the most ominous rituals in Ghanaian history, when in the full glare of the public, the party hierarchy encouraged the adoption of very bizarre methods, including the invocation of unseen spirits on its political opponents.
Dozens of fetish priests were employed to invoke curses on the ruling New Patriotic Party (NPP), not only to make them lose the 2008 general elections, but to have the millions of the party's membership across the country inflicted with strange diseases, including king-sized hernia and measles.
The country's largest opposition party did the unthinkable, following instigations from the top hierarchy that last week's 10-year jail sentence slapped on the Member of Parliament for Keta Constituency, Hon. Daniel Kwasi Abodakpi, was a tribal agenda.
The fetish priests, carrying concoctions made with water from some three old natural wells in Keta, were followed by several women, many of who wept and dragged their buttocks on the bare ground to awake their ancestors from their graves, to heed their plea.
Several hundreds of NDC members and Abodakpi sympathisers, all clad in red, wailed and rolled on the ground at Ekpame, a popular durbar ground, to perform the bizarre rituals, soon after Bagbin had incited their wrath with 'ethnocentric revelations'.
A concoction was sprinkled along the streets of Keta amidst chanting of incantations believed to be powerful enough to make the sun stand still.
For now, a cloud of loud silence has hung over the Anlo and Keta constituencies, following the development. While the youth have adopted a wait-and-see attitude, the elders in the area say the various rituals were very serious and a prognosis of damning pandemic consequences.
Should the 'gods' of Anlo heed the cry of the NDC, some 2.5 million men would soon go about town with king-sized testicles, a situation which can definitely make the Adaklu-Anyigbe discovery look like a child's play, and surely place more strains on the nascent National Health Insurance Scheme.
Last Sunday's politically-led invocations for ancestral intervention at Keta, even though common in African mythology, was unheard of in mainstream Ghanaian politics, and such practices had always been denied by the elite.
By Bennett Akuaku