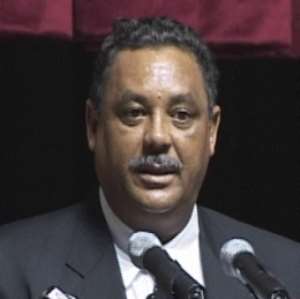 Mr Jake Obetsebi-Lamptey, Minister of Tourism and Diasporan Relations on Friday called on Ghanaians to refer to African Americans who return to Ghana as "Anyemi", meaning my brother or sister, instead of "Obroni", which means white man or woman. "Substitute the calling of 'Obroni' with 'Anyemi," when you see our brothers who have been to...", he said at the ECOWAS Ministers of Tourism meeting on UNESCO commemoration of the abolition of the North Atlantic Slave Trade on the theme: "From Slave Route to Heritage Route."
The meeting, which also prioritised the development of a slave route project in Africa to enable African Americans to trace their roots brought together Ministers of Tourism from Nigeria, Togo, Benin, Cote d'Ivoire, Sierra Leone, The Gambia as well as Mr John Prescott, Deputy British Prime Minister and Mr Koichiro Matsuura, Director General of UNESCO. Mr Obetsebi-Lamptey said that Ghana had initiated a project dubbed: "Akwaaba Anyemi" within which the Ministry was working on the "Joseph Project," which seeks to unite Africans of all descent, making the 21st century an African one.
He explained that the "Joseph Project" was a sub-project under the Akwaaba Anyemi programme, which for now, was targeted at black churches and black universities in the United States of America. "It is a Pan-African programme; it is about the future; it seeks to recognize and deliver on two key messages which are African unity and African strength. It is not a tourism product, if we see it as a tourism product it will fail," the Minister said.
Mr Obetsebi-Lamptey said the "Joseph Project" had an overall plan of putting African strength together so that the African would be fully emancipated. He advocated that school children should be educated on "our true and full history to enable them to properly reach out to the been-tos." The Minister announced the "Joseph Project" would start on August 1, this year with a healing concert at the Elmina Castle. "The healing concert will involve traditional priests who would perform ceremonies to heal our wounds from the past," he said, and noted that we need to forgive each other as Africans and accept forgiveness from each other.
Papa Owusu Ankomah, Minister of Education, Science and Sports, repeated that the slave trade marked the darkest point in the history of the world. He noted that the 200th anniversary of the abolition of the slave trade offered an opportunity for Africa to unite and live together as one people. Mr. Matsuura noted that the legacy of slavery was not only evident in countries where slaves were transported but also in Africa where there are a lot of museums, castles and forts dotted along the coast. He expressed the hope that the anniversary celebration would contribute to the mapping of the slave sites and pledged UNESCO's support for the Joseph Project.
Mr Prescott, who referred to the Trans-Atlantic slave trade as an appalling part of human history, said the 200th anniversary of the abolition of the slave trade was an opportunity for all to remember those who were bought and sold into slavery and those who struggled against its injustices. "The bicentenary offers us a chance not just to say how profoundly shameful the slave trade was, how we condemn its existence utterly and praise those who fought for its abolition but also to express our deep sorrow that it ever happened."
Mr Prescott announced that the British government was minting a special 200th anniversary coin with the motto "Reflecting on the Past, Looking to the Future" and expressed Britain's excitement to work closely with Ghana on the Joseph Project. He noted that the world was now focusing on how to help Africa tackle her problems, saying, "Africa is of course a place of great beauty, fantastic diversity, resilient and talented people with enormous potential. It is the only continent getting poorer and where in many places life expectancy is falling."
Mr Prescott said agreement had been reached to double aid to Africa by 2010, to write off debts of the poorest countries and to increase funding massively to tackle AIDS and improve health care and education. "Britain is planning to spend over 8.5 billion Pounds sterling over the next 10 years supporting long-term education plans in poor countries," he said, and called on rich countries to follow so that by 2015 children everywhere will be able to complete at least five years of quality education. Mr Prescott said: "Today we look forward to realising the huge potential of a new Africa in which every person can one day be freed from injustice, poverty and disease."