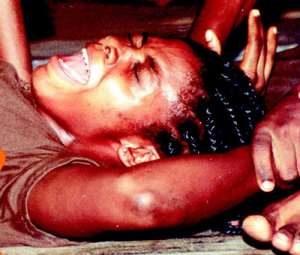 The Domestic Violence and Victim's Support Unit (DOVVSU) of the Police Service in the Volta Region and the United Nations Population Fund (UNFPA) are talking to the chiefs and opinion leaders in the Nkwanta District over a bad cultural practice where a bride-to-be is forced to sleep with her brother before being allowed to go to her husband.
The practice, known as 'Sister-in-bed' in the community, is one of the negative traditional practices the unit is tackling in the Nkwanta District. Others are widowhood rites by which pepper is poured in the eyes of the woman whose husband is dead and female genital mutilation.
Assistant Superintendent of Police, Rita Narh of the Volta Region DOVVSU, said apart from the practice being backward in modern terms it is also a source of HIV/AIDS infection.
According to her, the brothers who sleep with these girls, most of whom are virgins, have wives and children and could also be an avenue for conflicts between the brother-in laws especially in situations where pregnancies and child birth occur.
The practice, she said is very common in the villages of the district and parts of Togo,
According to her the unit had had a number of cases reported to it but did not intend making arrests as this would drive people underground.
Instead, it was rather using educational campaigns such as public fora to highlight the negative impact of the socio-cultural practices on women who are always at the receiving end.
ASP Rita Narh said the unit has also embarked on radio programmes in the local dialects, that is Ewe and Twi on Domestic Violence and Gender Based Violence including child labour and trafficking which is prevalent in the Northern part of the Volta Region to educate the people.
Spectator