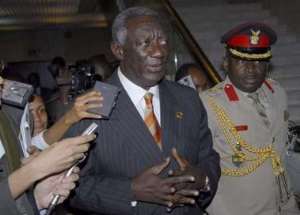 President J. A. Kufuor has succeeded in brokering a peace agreement among leaders of the three troubled Great Lakes nations of Sudan, Chad and Central African Republic.
Presidents Omar al-Bashir, Idriss Derby and Francois Bozize, of the respective countries, have signed an agreement to this effect here in Cannes, at the Africa-France Summit.
They declared their unflinching support for the engagement of United Nations and African Union troops in the area.
They have also agreed to set up an active consultation body to enforce the agreement.
President Kufuor, who is also the chairman of the African Union, chaired the meeting which lasted for more than four hours.
He expressed appreciation for the high level of understanding and fellow-feeling that was developing amongst the troubled countries.
Also in attendance at the meeting were the host President, Jacques Chirac of France, Hosni Mubarak of Egypt, El Hadj Omar Bongo of Gabon and Dennis Sassou-Nguesso of the Republic of Congo.
In accordance with the Tripoli Agreement of February 8, 2006 that sought to settle disputes between Chad and Sudan, the feuding countries have also reiterated their commitment to respect each other's sovereignty and vowed not to support armed movements from each other's territory.
Chad had accused Sudan of supporting rebels from that country. Central African Republic has also alleged that Sudan was supporting a rebellion there.
Sudan had denied both charges and rather accused Chad of backing rebels in Darfur.