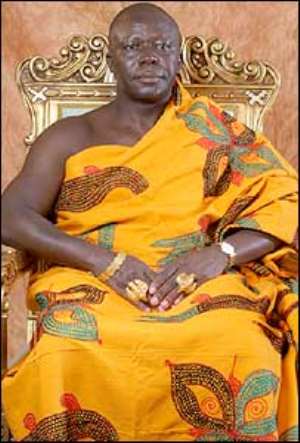 THE Asantehene, Otumfuo Osei Tutu II, has expressed support for the concept of Alternative Dis-pute Resolution (ADR), saying its adoption by Asan-teman in settling chieftaincy disputes has significantly contributed to the reduction in chieftaincy cases pending at the law courts.
The ADR, Otum-fuo stressed, 'is the same practice as arbitration of cases using the customary law without the parties involved engaging counsel.'
Otumfio Asante-hene was speaking when four justices of the Superior Courts in Kumasi paid a courtesy call on him at the Manhyia Palace.
He said some of the cases at the courts had delayed for over 10-years, but using the ADR concept, it took only a few days to deal with them, when the parties appeared before the traditional council.
He noted that a lot of technicalities in dealing with customary laws at the courts left the parties spending huge sums of money.
He said that at the regional chieftaincy tribubals, there was a lot miscarriage of justice because many of the panel members did not know the customary laws and usage and, therefore, erred in their judgements compelling aggrieved persons to go on appeal.
'Since I appoints chiefs to occupy the stools, I have deep knowledge of how to deal with chieftaincy disputes,' he said, adding that after settling disputes, some of the parties returned to express their appre-ciation.
Otumfuo expressed his gratitude to the judges and lawyers who readily agreed to the withdrawal of cases before them.
He said he was also satisfied that the courts were dealing with current robbers and other criminals.
Justice Adu Ampo-mah who led the team, said they were happy to be working in the Ashanti Region and called for cooperation and support to uphold the dignity of the judiciary.
Other members of the team were Justices, Obimpeh, Frank Amoah and Ansul Gyeabour.