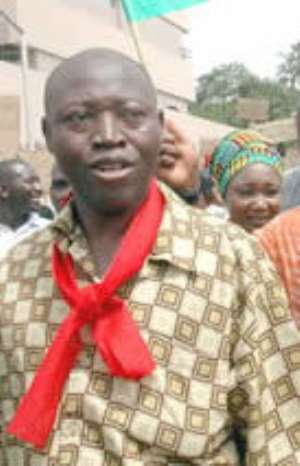 The Functional Executive Committee of the Democratic Freedom Party (DFP) has distanced itself from a newspaper publication to the effect that the party's national chairman, Alhaji Abdul Rahman Issaka, has kicked against calls on the President to use his executive powers to free jailed Keta MP, Hon. Daniel Kwasi Abodakpi.
On the contrary, the party said the 10-year jail sentence slapped on the former Trade and Industry Minister was too harsh.
In a press release, the party noted that whatever views the chairman was alleged to have expressed on the issue did not represent the official position of the party.
The release, dated February 14, 2007 and signed by Mr. Bede Ziedeng, Interim General Secretary of the party, said "Much as the party recognizes the independence of the judiciary and would not therefore do anything to undermine its integrity, the DFP is of the opinion that the sentence handed down to Hon. Dan Abodakpi, MP for Keta is harsh.
"The DFP also recognizes that in the constitutional dispensation of the country, it is the prerogative of the President to pardon whomever he wishes to pardon, and absolutely nobody can question that," it continued.
It would be recalled that Alhaji Issaka, in a recent interview with The Ghanaian Observer, reportedly cautioned that granting Abodakpi pardon would be at variance with the President's own policy of 'Zero Tolerance for Corruption'.
In a related development, the party has condemned in no uncertain terms the murder of Mr. Samuel Ennin, Ashanti Regional Chairman of the Ghana Journalists Association (GJA) and conveyed its condolences to the bereaved families.
It urged the GJA to stand firm in the midst of the development and uphold their position as the Fourth Estate of the Realm.
"The incident is by all standards unacceptable in our society, particularly under our nascent democracy, and must be nipped in the bud", it said, and called on the security agencies to rise up to the occasion by apprehending the perpetrators of the dastardly act.