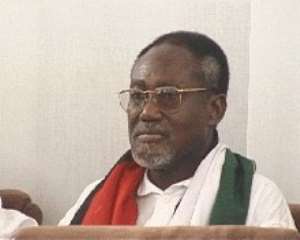 An activist of the Democratic Freedom Party (DFP) and former Shai Osudoku constituency youth organiser of the New Patriotic Party (NPP), Mr. Livingstone Dotse Agbodzi has expressed hopes that the leadership of the DFP would not make a cult figure out of Dr. Obed Asamoah, the party`s life patron, or any other top gun in the DFP.
According to him, there are lessons to be drawn from mistakes committed by the National Democratic Congress (NDC) in creating a god out of Rawlings. These lessons must not be repeated by any political entity in the nation, especially the DFP to which he belongs. Speaking in an interview with GO at his residence at Henyun, a village off the Dodowa-Somanya road in the Dangbe West District of the Greater Accra Region, Mr. Livingstone Agbodzi stated: `Idolising Obed and making him a cult figure around whom the party revolves would spell disaster for the party.`
He advised the leadership of the DFP to learn from the mistakes of the National Democratic Congress (NDC) who `after showcasing Rawlings as though he was the Alpha and Omega of the NDC, are now painfully struggling to shed off that accolade of a cult figure of the party.` Mr. Agbodzi, who is a French teacher by profession told GO that it will be in the interest of the DFP to market party policies to the electorate rather than showcasing top party people or a cult leader. `I am saddened that whenever I mention the DFP to my constituents, the tendency for them is to mention the name of a figure, without bothering to know anything about the party and its programmes and policies.`
`I will advise that astute but aging veteran to take the back seat and advise the party leaders as and when necessary. He should not act like Rawlings who in both the 2000 and 2004 elections overshadowed Professor Mills with his cult figure status to the detriment of the party. After all everybody knows he is the founder and bank roller`, he added. Currently gunning for an executive position of the DFP in the Shai Osudoku constituency, Mr. Agbodzi, however, commended Obed Asamoah for `his political sense of maturity in leaving debates on national issues to his executives and party members.`
When the GO asked why he left the NPP for the DFP, the former NPP youth organiser said as far as he is concerned the DFP is the only viable alternative party to both the NDC and NPP, stressing that both the NDC and NPP have failed Ghanaians and could no longer be trusted. `They are the same animals but with different colours`, he said in reference to the NDC and NPP, insisting that the two parties are `the most inefficient and corrupt in the history of Ghana.` He therefore urged Ghanaians, particularly the youth, to join the DFP and support it to win the 2008 general elections.