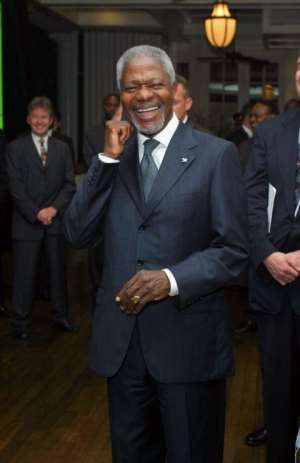 The visiting British Deputy Prime Minister, Mr. John Prescott, on Wednesday hinted at his country's intention to invite Mr. Kofi Annan, the immediate past Secretary General of the United Nations (UN) to address the United Kingdom (UK) Parliament this year.
According to Mr. Prescott, his country was thinking of inviting Mr. Annan to address them on the challenges he faced in solving the world's problems to enable the UK formulate international policies.
Mr. Prescott disclosed this in Cape Coast, the hometown of Kofi Annan when he paid a courtesy call on the Central Regional Minister, Nana Ato Arthur.
He said his country took into consideration the level of respect and awe Mr. Annan has earned in the eyes of the international community after his retirement.
Mr. Prescott, who said he has been an MP for 30 years and worked as a seaman for 10 years, said he was in Ghana to commemorate the 50th anniversary which coincided with the 200 years of the abolition of slavery in the world.
He said his predecessor, William Wilberforce, championed the struggle to abolish the slave trade and that his vision was to promote development after the obnoxious trade.
He commended President John Agyekum Kufuor for his election as the President of the African Union and hoped that he would lead Africa to play its role in world affairs.
Nana Ato Arthur said the Central Region was the heartbeat of tourism in Ghana with a lot of traces of colonial edifices such as the Cape Coast and Elmina Castles, forts along the coast and graves of prominent nationalist leaders.
He said the region was also endowed with the Kakum National Park, with its canopy walkway, which is about 397 square kilometers.
Ato Arthur added that the region has 33 paramountcies
with excellent cultural festivals such as Fetu Afahye,
Bakatue, Akwanbo and Aboakyere.
The Regional Minister also touched on excellent
schools bequeathed to the region by the British colonialists,
mentioning Mfantsipim School in Cape Coast
as the school Dr Kofi Annan attended.
He therefore appealed to Mr Prescott to assist in the development agenda of the region by investing in the tourism and industrial sectors.