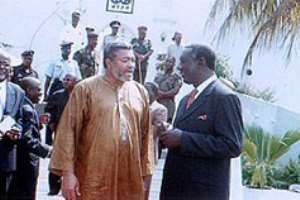 The government on Thursday sent a delegation of eminent persons to inform former President Jerry John Rawlings about [email protected] celebrations and to formally invite him to the opening ceremonies of all functions lined-up for the celebrations.
The delegation, led by Professor Daniel Adzei Bekoe, Chairman of the Council of State, included three other members of the Council as well as selected religious and traditional leaders.
Those on the delegation were His Eminence Peter Cardinal Appiah Turkson, Catholic Archbishop of Cape Coast, Sheikh Nuhu Shaributu, Chief Imam, the Rev. Dr. Paul Fynn, Moderator of the Lutheran Church, Madam Ama Busia, Mrs. Cecilia Bannerman, Ms. Emma Mitchel and Prof. Miranda Greenstreet.
Those with the former president at his residence to receive the delegation were Professor John Evans Atta Mills, NDC Flagbearer, Dr Kwabena Adjei, National Chairman of the National Democratic Congress (NDC), Mr Johnson Asiedu-Nketiah, General Secretary of NDC, Mr Alban S. K. Bagbin, Minority Leader in Parliament, Mr. Doe Ajaho, NDC-MP and some leading members of the party.
After four-hours of meeting with the former President behind closed doors, Prof. Bekoe told journalists that their mission was to inform the former president of [email protected] activities and to give him an open invitation to all activities during the celebration. "We have handed over the invitation and it is our hope that he would come to any of the functions he chooses to," he said.
Prof. Bekoe said the meeting was also used to discuss a wide range of issues during which the former president and leading members of the NDC frankly and candidly raised issues of concern to them. "We listened to their concerns and we would report back to the President," he said.
Mr. Bagbin also told journalists that they had some concerns about the manner in which the invitation was extended to the former president. They therefore told the delegation to report back to President John Agyekum Kufuor for the proper thing to be done.
He would, however, not say whether they were expecting a different approach to determine whether or not the former president would participate in any of the [email protected] activities.
Mr Bagbin also avoided the question on the exact concerns of the former president by telling journalists that it was for the presidential delegation to tell the press the concerns of the former president and the NDC leaders.