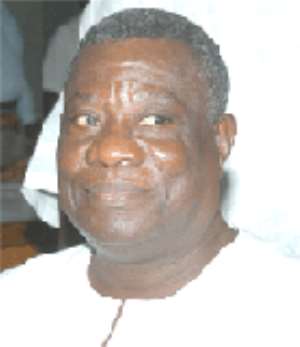 The flag bearer of the National Democratic Congress (NDC), Prof John Evans Atta Mills, has condemned the murder of the Ashanti Regional Chairman of the Ghana Journalists Association (GJA), Mr Samuel Enin, describing it as a "barbaric and heinous crime".
"I returned from South Africa from a private visit on Sunday night to the very sad news that Mr Samuel Kwabena Enin, Ashanti Regional Chairman of the GJA, was murdered in cold blood on Friday, February 9, 2007", a press statement signed by Prof Mills said.
It described as unfortunate the way all manner of criminals seemed to be on the loose, and expressed worry that this time around, "it is a seasoned journalist who has had his life cut short and my heart goes out to the nuclear and extended family of the deceased, as well as the GJA for losing one of theirs".
The statement commended the police for the swiftness with which they were putting in place concrete measures to apprehend the people who committed the heinous crime.
It expressed the hope that it would not be long before the long arm of the law roped in "the perpetrators of that barbaric act".
"As shocking as the death of Mr Enin is, I sincerely hope that his death would not cow any journalist into submission as the vital role that they have played, are playing, and would continue to play in the forward march of our dear country cannot be overemphasised", the statement said.